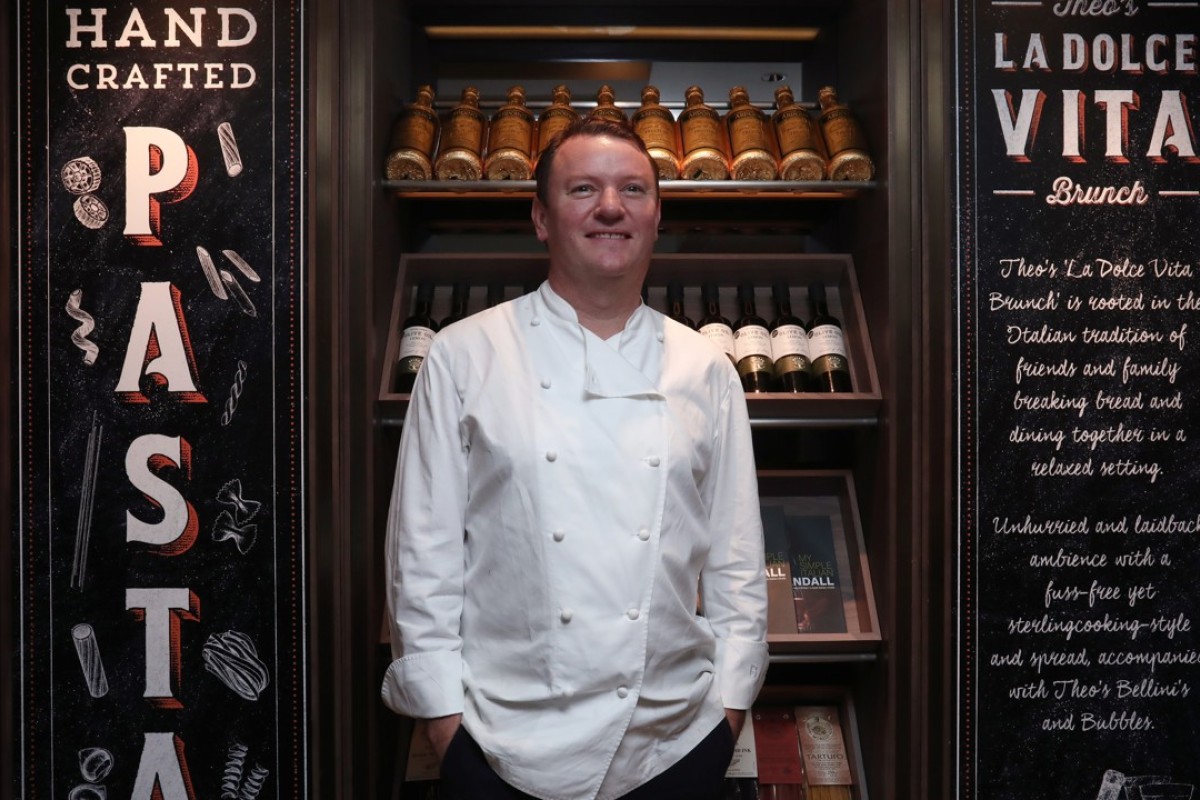 Chef Theo Randall at new Italian restaurant Theo Mistral by Theo Randall, in Tsim Sha Tsui. Picture: Jonathan Wong
How did you become interested in food? "My father was an architect, my mother an artist, and they would take me and my two sisters on holidays to France and Italy. We'd visit museums and houses, and at the time I found it very boring, but at the end of it we'd have a fabulous meal somewhere. This was from when I was six years old. I was a very adventurous child and I would order unusual things on the menu, usually something with shells on it. One time in Italy I ordered linguine vongole and I thought it was the most amazing thing to pick up the shells with my hands."
What was the first thing you cooked? "My mother was a really good cook and she would bake bread twice a week and I would help her. It was natural for me to be in the kitchen. When I was 12 years old I started cooking and trying to make all kinds of things. I'd use different herbs and season­ings, some things were great, some were terrible. I just really enjoyed doing it and loved the fact that I could make something."
What was your first job? "At 15, I was a kitchen porter for a French bistro and the Spanish chef there was a bit crazy. I loved this madness in the kitchen. I loved the inter­action between front of house and the kitchen. The place was packed all the time. The chef liked me and cooked for me. I eventually became second chef and realised I enjoyed doing this and was excited about going to work.
"When I was 18, I apprenticed under Max Magarian, of Chez Max [in London]. I was with him for almost four years. He was brilliant because he was old school and tough. I'd do pastry and all the garnish­es, and I became fast and efficient, working from 8am to 12am five days, sometimes six days, a week. He'd get a whole deer or venison and I'd have to skin it and gut it. All the fowl came with feathers, and we got in whole fish. Everything was made from scratch."
What was it like working at River Café? "I started work­ing for the owners, Ruth Rogers and Rosemary Gray, in 1989, a year after it opened. I worked there for two years. The restaurant got really busy during Wimbledon, and we had guests like Boris Becker, Martina Navratilova and Pat Cash. Rosemary and Ruth weren't trained chefs – they had their own ideas of Italian food and they had both lived in Italy. We'd go on trips there and they were so inspiring. We'd go visit these wine­makers who took us to their favourite restaurants and we'd have these amazing lunches and dinners; at the end of it you could hardly move."
You worked for Alice Waters at Chez Panisse, in San Francisco. What was she like? "What I learned most about from her was produce. The produce there was absolutely incredible, from the beetroot, tomatoes … every­thing was grown locally. This was in the early 90s. She was so ahead of her time.
"Ruth called me while I was there and asked me to come back, saying they would make me head chef and partner. I said yes. The restaurant grew and got a Michelin star, which we didn't expect because it's not Michelin-style food. The restaurant got busier and we expanded to seat 100 people. We worked with amazing people, Jamie Oliver turned up as a young chef with long hair, scruffy and a 'hello mate' kind of thing.
Why did you open your own restaurant? "Even though I had shares in River Café, deep down I knew it wasn't my restaurant so I felt it was time to move on. I looked at various sites and then from nowhere there was a space at the InterContinental in Park Lane [in London]. It was the right opportunity and I trusted my instincts and opened in 2006. I felt it was the right time to put my name on the door. Within six months, we were named Italian restaurant of the year, much to the annoy­ance of the Italian community [laughs]."
What do you like about Italian cuisine? "I like the simplicity of it. I spend a lot of time travelling around Italy – I go about five times a year and, obviously, eat out, getting inspiration. Italy's like a lot of coun­tries, each region has its own speciali­ties. In Puglia, on the coast, all you'll get is seafood and then you drive 10 miles inland and all you'll eat is meat. It's very much about local produce. You don't really get bad food in Italy as long as it's Italian."
How did Theo Mistral by Theo Randall, in Hong Kong's InterContinental Grand Stanford hotel, come about? "The general man­ager of the hotel [Alex Wasserman] came to my restaurant in London with his family and had a meal. We started chatting. Then he went to my restaurant [Theo Mio] in Bangkok and contacted me and said, 'I see what you're doing, how about opening in Hong Kong?' If you have passion and desire and work with people you trust and can put a good team together, then there's no reason why you can't open anywhere."