Easy butternut squash soup – creamy and comforting deliciousness in a bowl!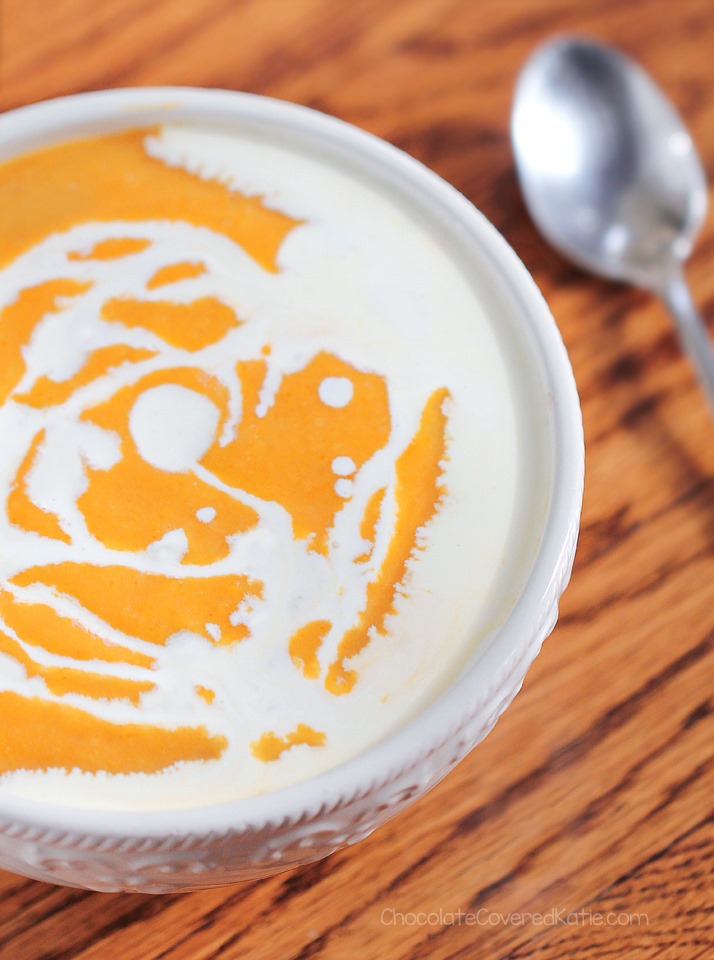 The Best Butternut Squash Soup Recipe
This simple homemade butternut soup is so flavorful and so easy to prepare, you'll find yourself wanting to make it over and over again!
Each year when the weather turns cooler and the leaves begin to fall from the trees, I look forward to kicking off the autumn season with a bowl of this sweet and flavorful soup, which has become one of my favorite Fall recipes.
Leftovers also freeze well, meaning you can cook just once and get a hearty and filling meal that's instantly ready any time you're in need of some wholesome comfort food.
Also Try This Lentil Soup Recipe – Reader Favorite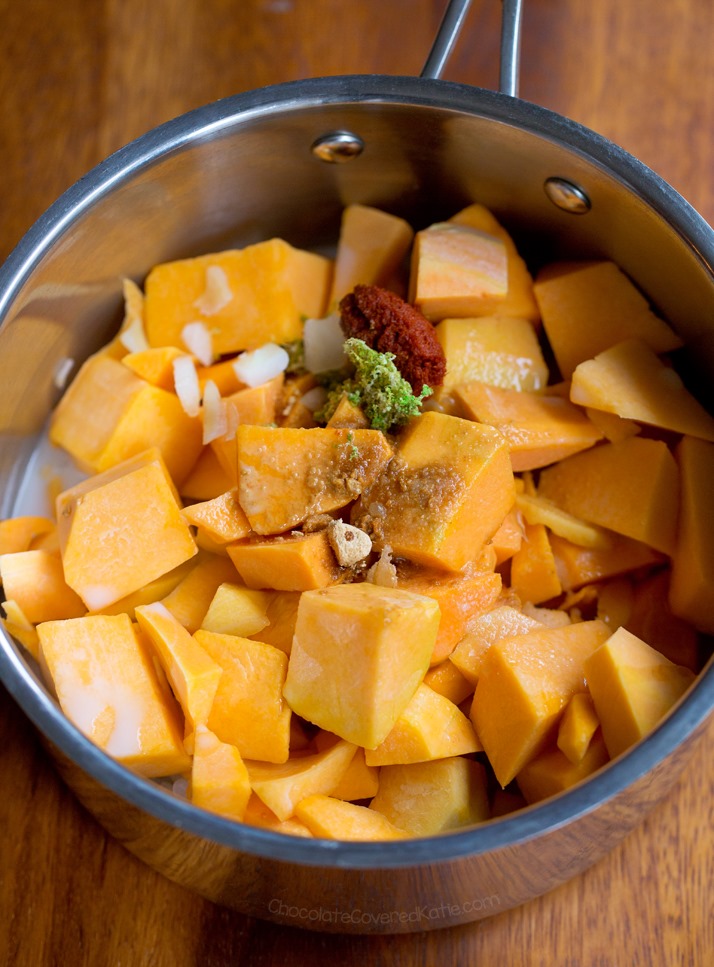 Healthy Butternut Squash Soup
Vegan
One Pot
Whole 30
Paleo
Gluten Free
20 Minutes
Butternut Soup Ingredients
The soup calls for 2 1/2 lb of butternut squash, which is about 1 medium squash, and you can either buy it whole or already chopped.
To save time, I usually buy the pre-chopped squash from Trader Joes. I also prefer to buy pre-chopped onion, because chopping onions makes me cry like crazy, so it's well worth the few extra cents!
For the spices, I like to add minced garlic, fresh ginger, lime zest, and red curry paste.
Feel free to double up on the amount of ginger called for if you want a spicier soup, and you can also use powdered instead of fresh if you'd prefer.
While I sometimes include the optional apple and carrot for added depth of flavor and to pack the vegan butternut squash soup with even more Fall character, these ingredients are also fine to leave out. I especially love using coconut milk in this soup but have also had great results with lower fat milks, so free to use your favorite.
Trending Recipe: Buffalo Cauliflower Wings – 6 Ingredients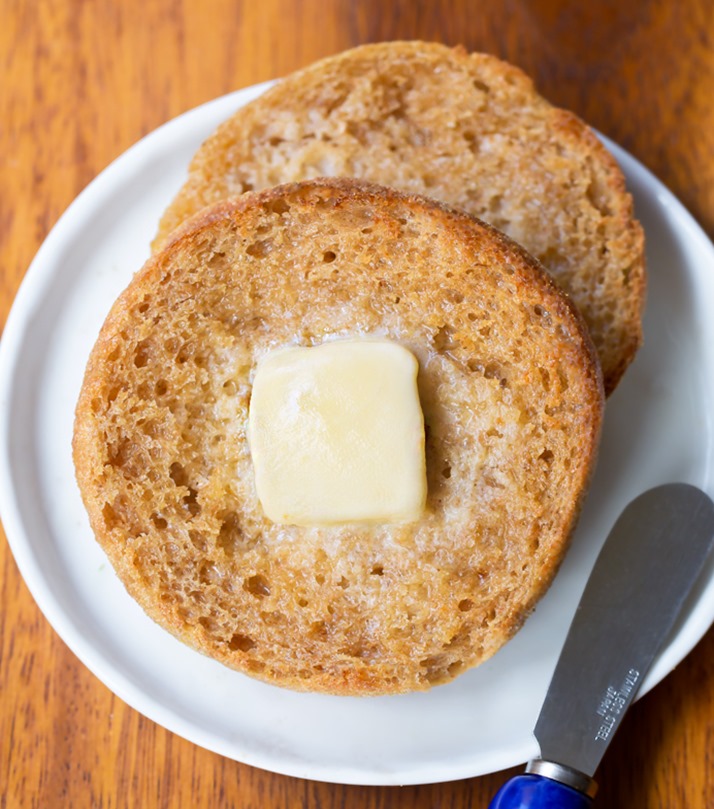 My favorite way to eat this soup is with a toasted homemade English muffin from my Hello Breakfast ebook.
Or try it with these Applesauce Muffins!
Served with a large side salad, the soup makes a wonderful healthy weeknight meal or is also great for Christmas or Thanksgiving dinner.
The recipe is adapted from one I've been making for years and first posted back in December of 2013. It was originally inspired by a recipe from the Moosewood Restaurant Favorites cookbook.
The summer before my junior year of high school, I took a road trip to visit colleges along the East Coast of the US. One of the stops was Cornell University, located in the small town of Ithaca, New York.
I fell instantly in love with the rolling hills, the cascading waterfalls, the quaint shops, and with Moosewood, a popular vegetarian establishment named one of the thirteen most influential restaurants of the 20th century by Bon Appétìt magazine. I ate at Moosewood twice during the overnight trip and left the restaurant with a cookbook in each hand.
You Might Also Like: Sweet Potato Brownies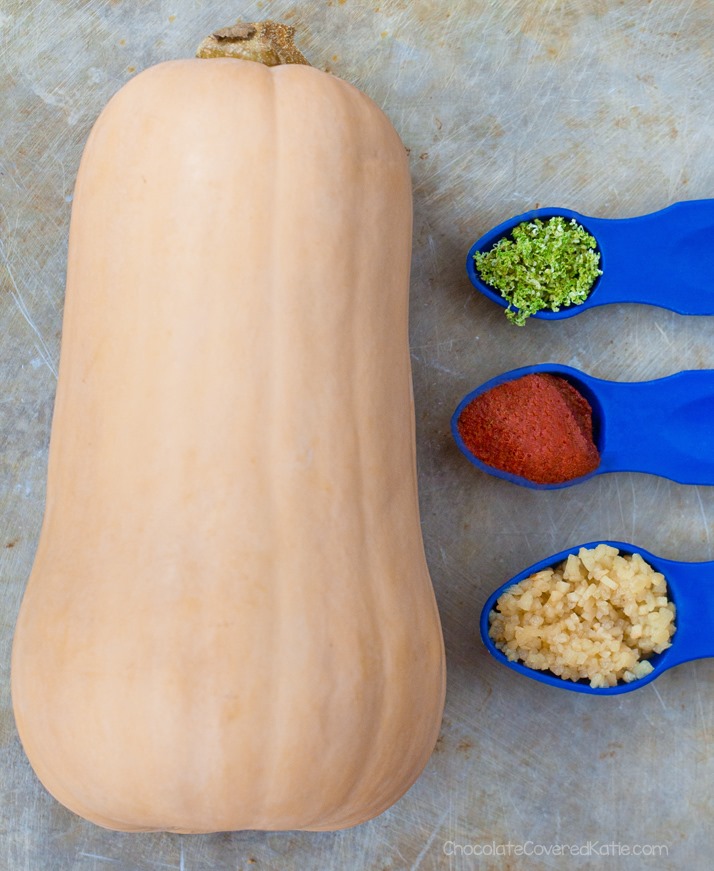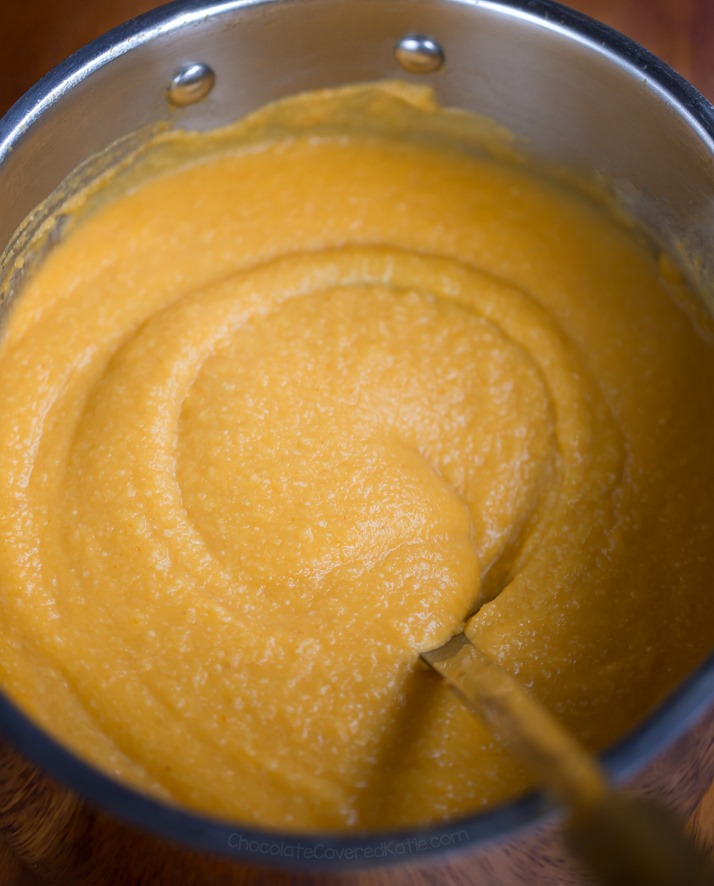 Roasted Butternut Squash Soup
For a flavorful variation, you can also roast your butternut squash first if you'd prefer. (Have you noticed that you can have a lot of options with this recipe?!) Simply cut the squash in half, then bake as desired. I roast butternut squash the same way I cook sweet potatoes: See How To Cook Sweet Potatoes.
Once roasted, combine with the other ingredients right before the blending step.
Instant Pot Butternut Squash Soup Recipe
Optionally, first set the pressure cooker to Sauté mode, and cook onion with a little oil or spray until it begins to brown (6-7 minutes). Add garlic and cook another minute. Add all remaining ingredients except optional spinach, and set to High Pressure for 8 minutes. Use Quick Release, then blend until smooth. Stir in spinach until it wilts, and serve.
Crock Pot Or Slow Cooker Version 
Optionally, sauté onion with a little oil or spray until it begins to brown (6-7 minutes). Add garlic and sauté an additional minute. Combine all ingredients except optional spinach in a crock pot, and cook either on low for 7 to 8 hours or high for 3 1/2 to 4 hours, or until butternut squash is soft. Blend until smooth. Stir in spinach until it wilts, and serve.
Above – Watch the video of how to make butternut squash soup!


Butternut Squash Soup Recipe
Also be sure to try this Veggie Burger Recipe
Butternut Squash Soup

5/5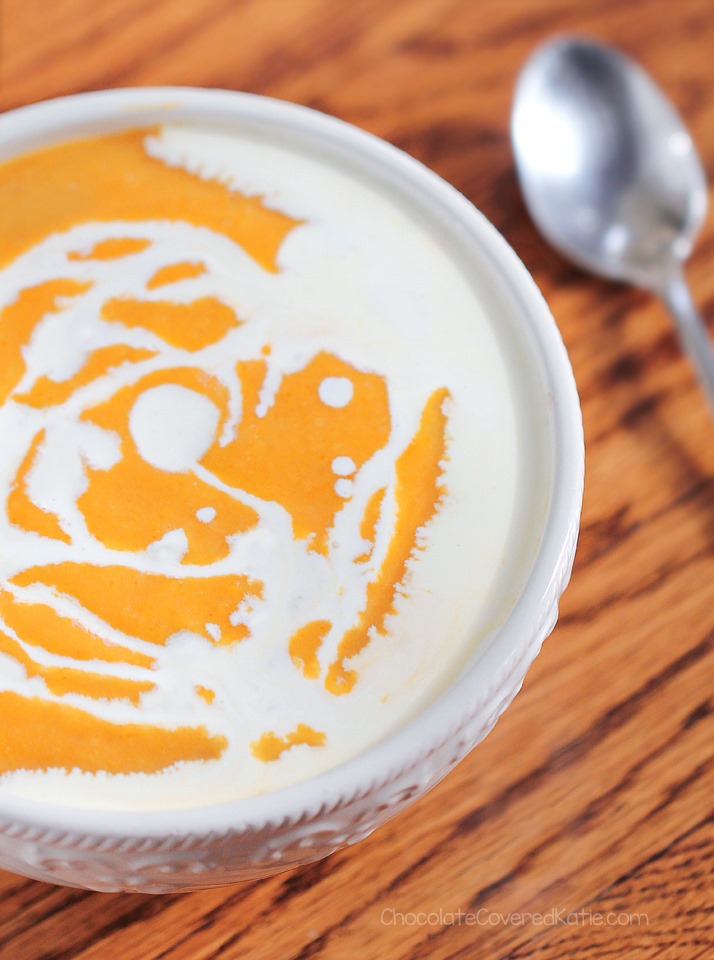 Ingredients
2 cups chopped white or red onion
2 tbsp minced garlic
3 cups coconut milk, or milk of choice
2 tbsp Thai red curry paste
3 1/2 tbsp chopped fresh ginger, or 2 tsp powdered
1 tsp salt, and optional pepper to taste
2 1/2 lbs peeled butternut squash (1 medium) or sweet potato, chopped
optional 2 carrots, peeled and chopped
optional 1 Granny Smith apple, peeled and chopped
2 tbsp lime juice + 2 tsp lime zest
sweetener of choice, such as 3 tbsp pure maple syrup
only if not using canned coconut milk, I usually add 3-4 tbsp coconut butter, cashew butter, or oil for richness
optional, 3-5 oz raw spinach
coconut milk or vegetable broth as desired for a thinner soup
Instructions
*For a smaller amount, feel free to halve the recipe. If you'd prefer to make this soup in an instant pot or crockpot, instructions for both of those methods are written earlier in this post. My personal favorite way to make this soup is using canned coconut milk, but it's also delicious if you use another milk of choice (such as almond) and include the optional oil or coconut butter.
Butternut Squash Soup Recipe: Sauté onion with either 1 tbsp oil or spray (or water for fat-free) until it begins to brown. Add garlic and sauté an additional minute. Combine all ingredients except the optional spinach, and bring to a boil. Continue boiling (a low boil, uncovered) until the squash is soft, about 10-15 minutes. Turn off the heat. Either transfer to a blender or use a hand blender to completely puree the soup. If using a blender, do it in two batches. If using the optional spinach, return the soup to the pot and add the spinach. Bring back to a boil and cook just until the spinach wilts. Serve either hot or cold. Leftovers freeze well.
More Healthy Easy Recipes: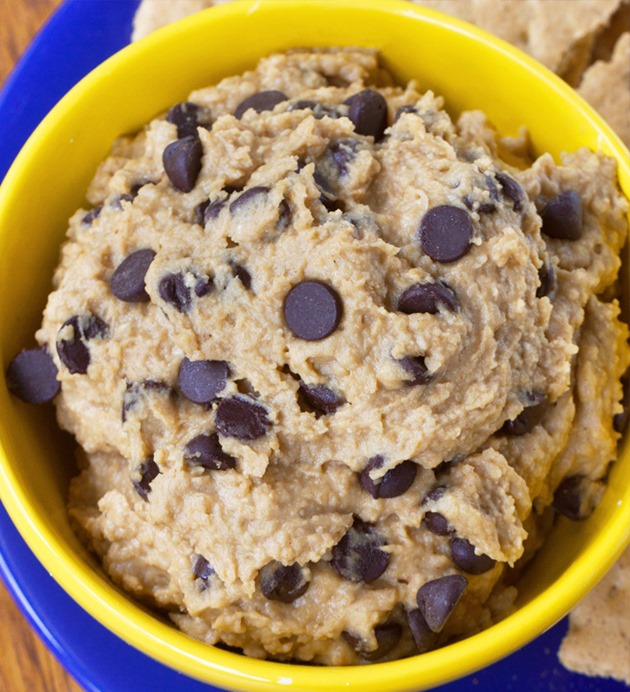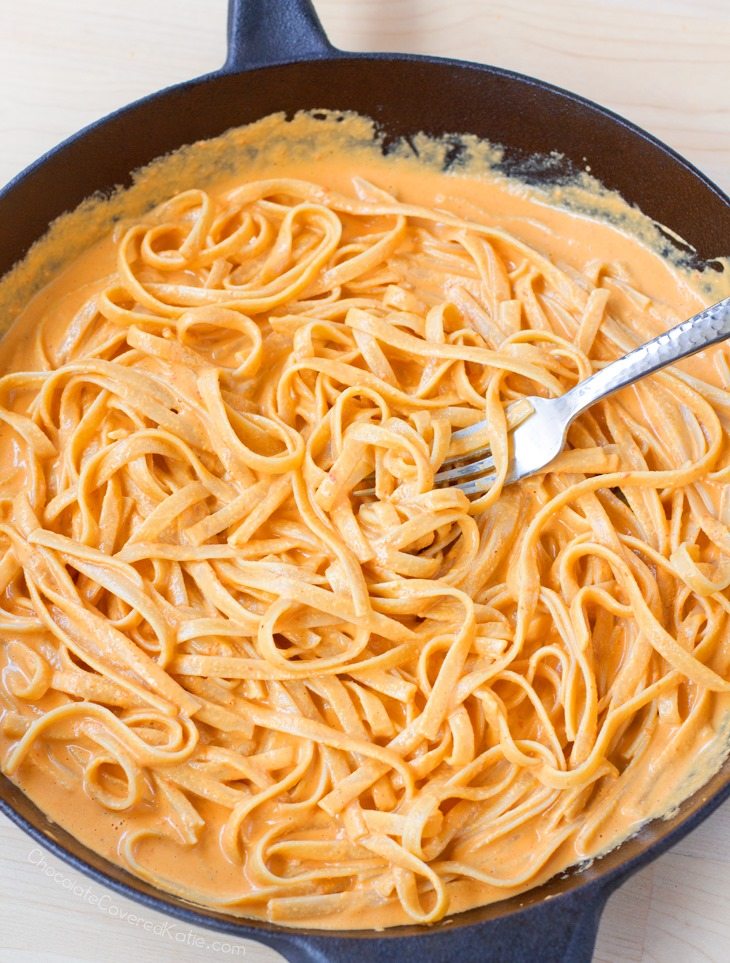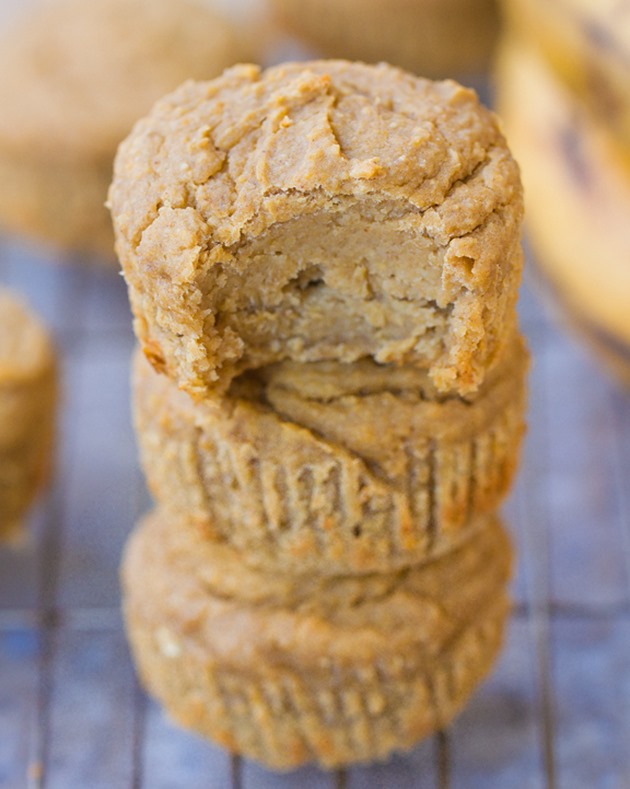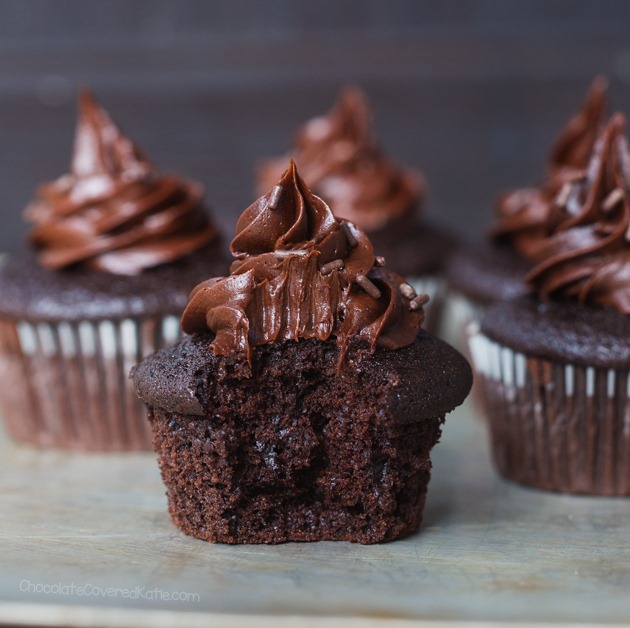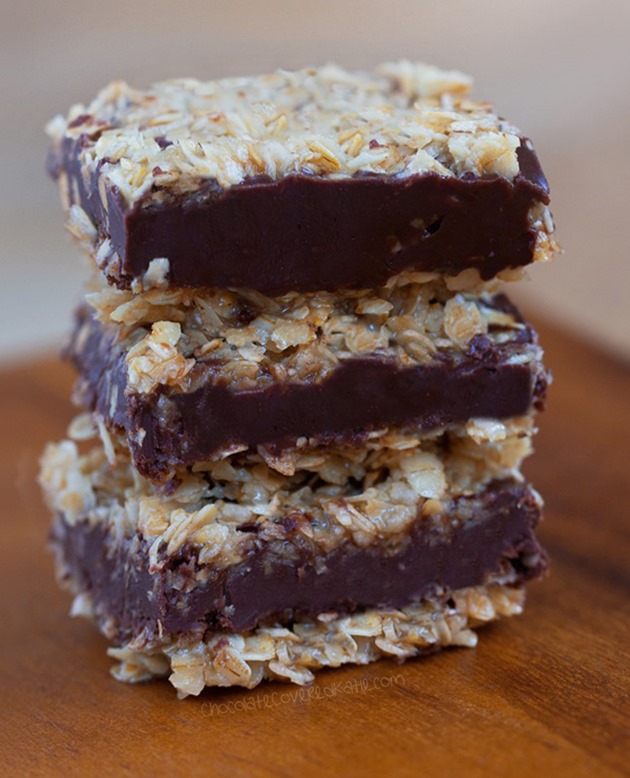 5/5 (9)

Find more healthy recipes like this Butternut Squash Soup at Chocolate Covered Katie.