This deliciously thick and creamy homemade red pepper alfredo pasta is surprisingly simple to make.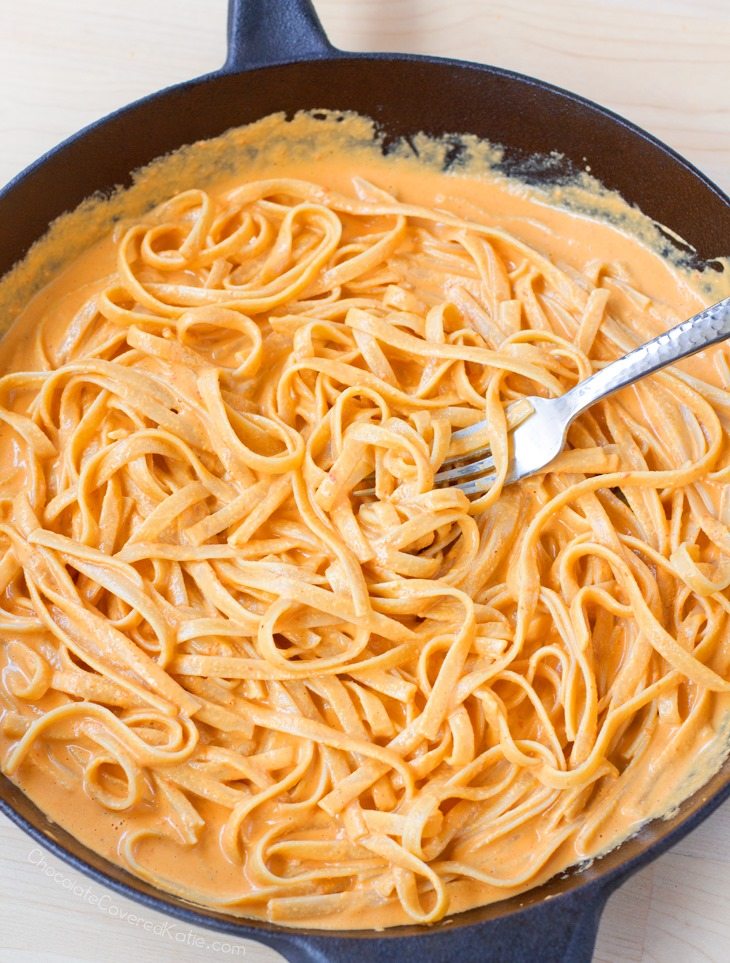 I make a variation of this creamy pasta dish at least once a month.
The sauce is a wonderful addition to everything – pasta, vegetables, garlic bread, or even served in a bowl as a rich and creamy soup.
It's also great over spaghetti squash if you want to save calories – See: How To Cook Spaghetti Squash.
No oil
No dairy
Just 8 ingredients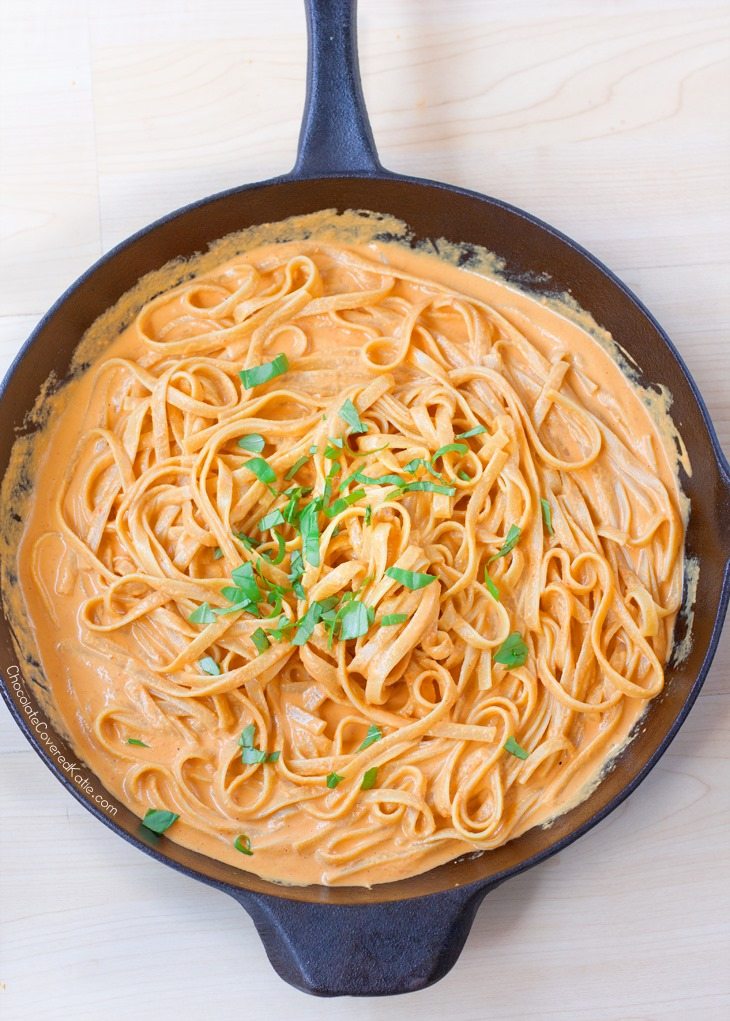 This magically thick alfredo also has NO HEAVY CREAM.
Instead, the richness comes from heart-healthy cashews, one of my favorite versatile plant-based ingredients.
They can be used in both sweet and savory recipes to produce incredible creaminess even without any heavy cream or dairy.
*If you prefer a nut-free pasta recipe, be sure to check out my Creamy Spinach Tomato Pasta, or also this Cauliflower Mac And Cheese.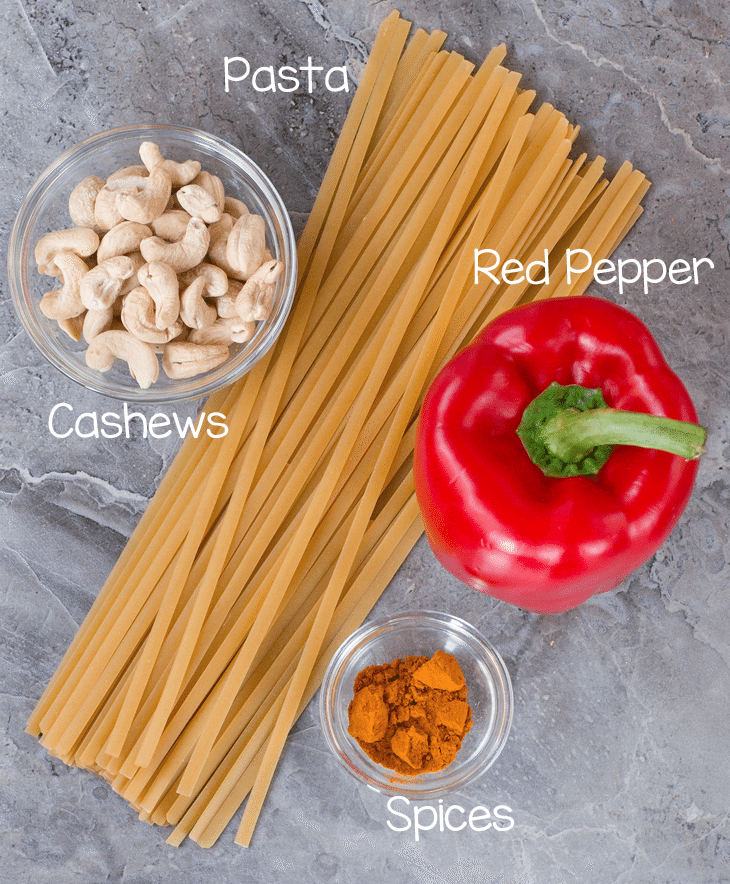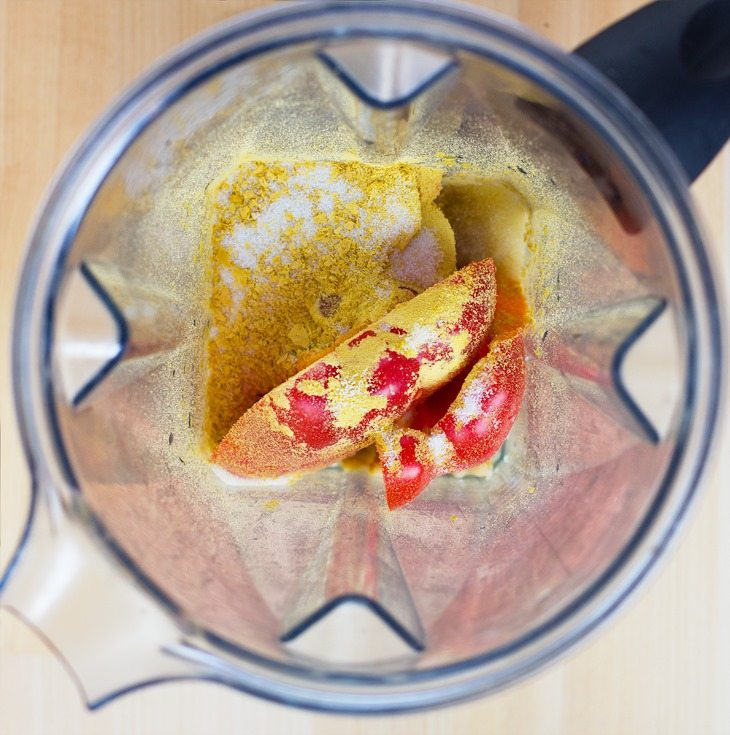 This sauce comes together really easily.
Just throw the ingredients into a blender and process until smooth.
You can heat the sauce while making your pasta, so everything can be done and ready to eat at the same time.
Also Try These Buffalo Cauliflower Wings – 6 Ingredients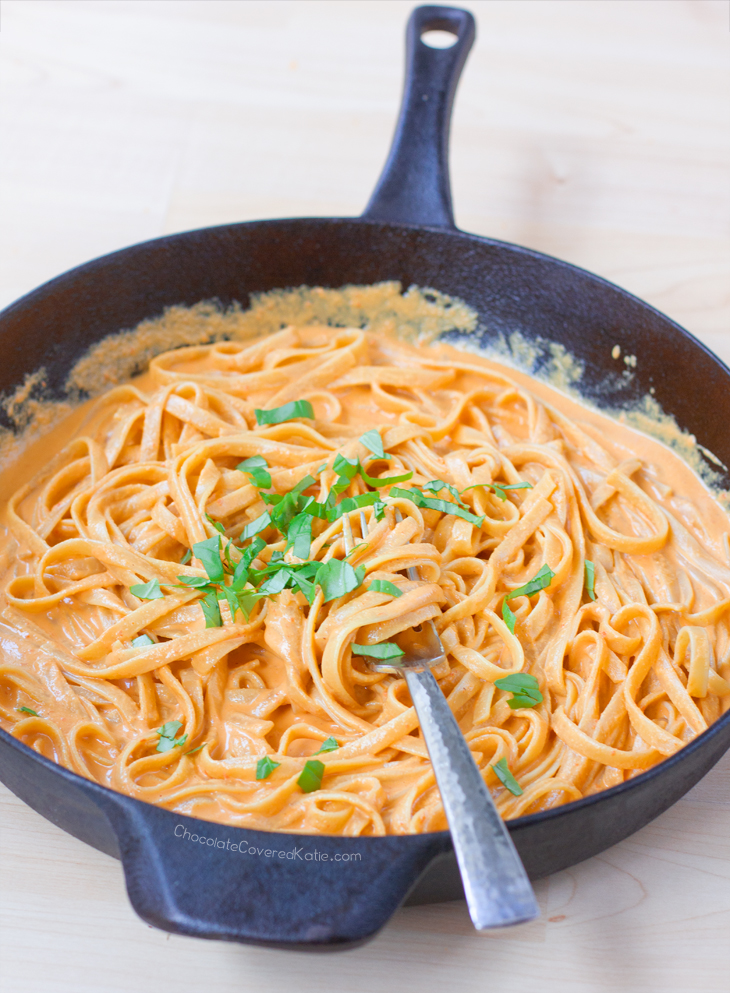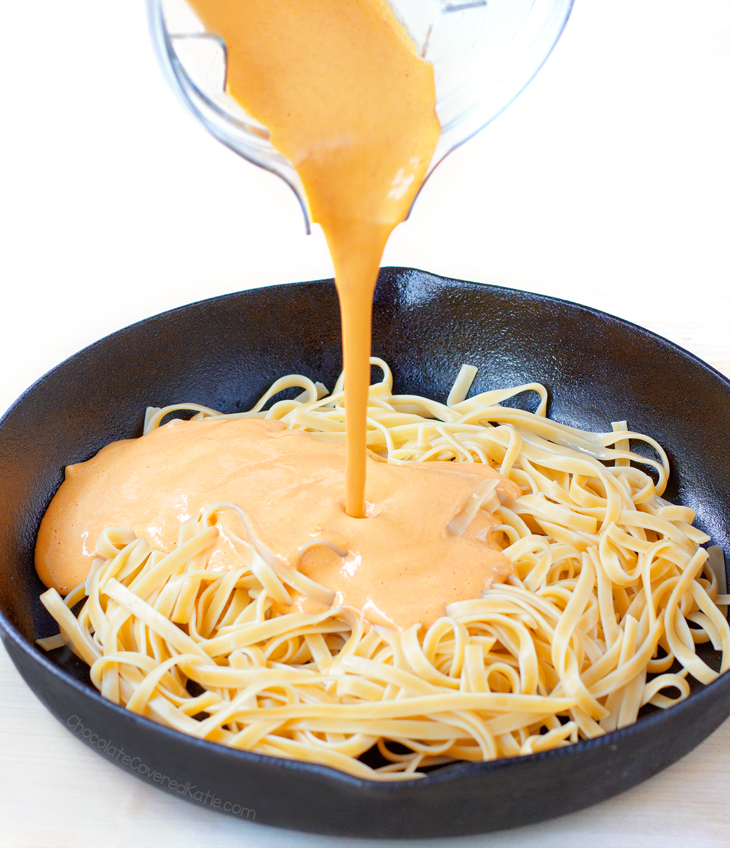 Italian that I am, pasta is one of my favorite foods.
When I first became a vegan at the young age of 14, my Italian grandmother panicked and told me I was crazy.
Then she thought about it for a minute and asked…
"Can you still eat pasta?"
When I assured her that, yes, I could definitely still eat pasta as a vegan, she let out a giant sigh of relief and said, "Oh, in that case, no problem!"


Creamy Red Pepper Alfredo Pasta
Creamy Red Pepper Alfredo Pasta

4.93/5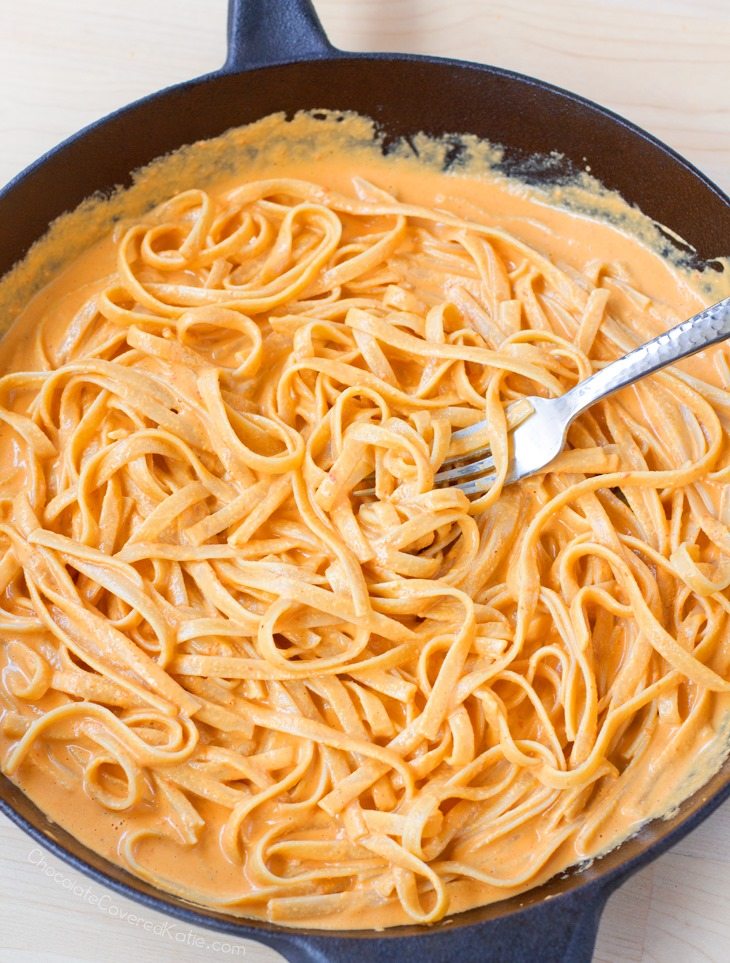 Ingredients
1 red bell pepper, raw or roasted
1/2 cup water
1/2 cup raw cashews or macadamias
1/4 cup nutritional yeast or Parmesan cheese (such as vegan parma)
1 tsp salt
1/4 tsp onion powder
1/4 tsp ground turmeric
1/8 tsp ground nutmeg, optional
10 oz pasta, or spaghetti squash or vegetables
optional grilled or roasted veggies, beans, etc.
Instructions
Place the nuts in a cereal bowl, cover with water, and let sit 6-8 hours. Drain fully, and pat dry. Blend all ingredients (including 1/2 cup water) except pasta and optional veggies in a food processor or high-powered blender until completely smooth. Heat sauce in a pot until desired temperature is reached while cooking pasta in salted water according to package directions in a separate pot. Drain pasta fully, but do not rinse. Pour the sauce over the pasta, season with salt and pepper as desired, and stir in cooked vegetables, beans, or other add-ins if desired.
*If you increase the water to 1 cup, the sauce also makes a really nice and creamy soup.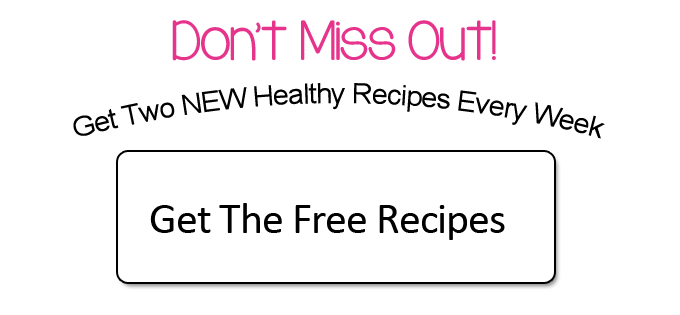 TRENDING RECIPES RIGHT NOW: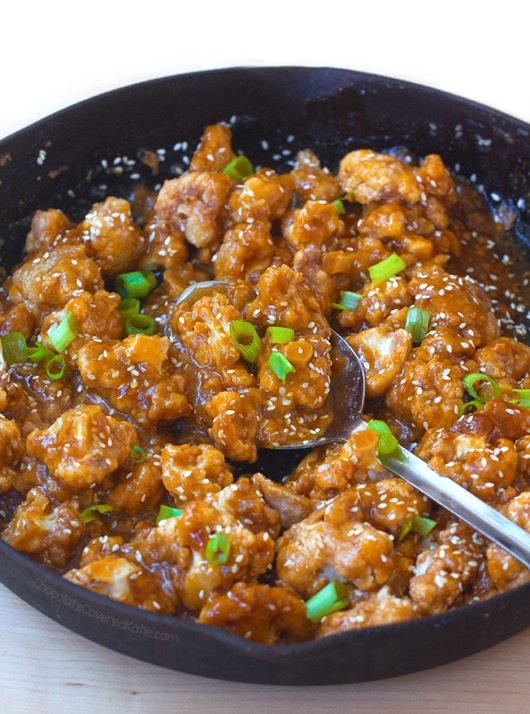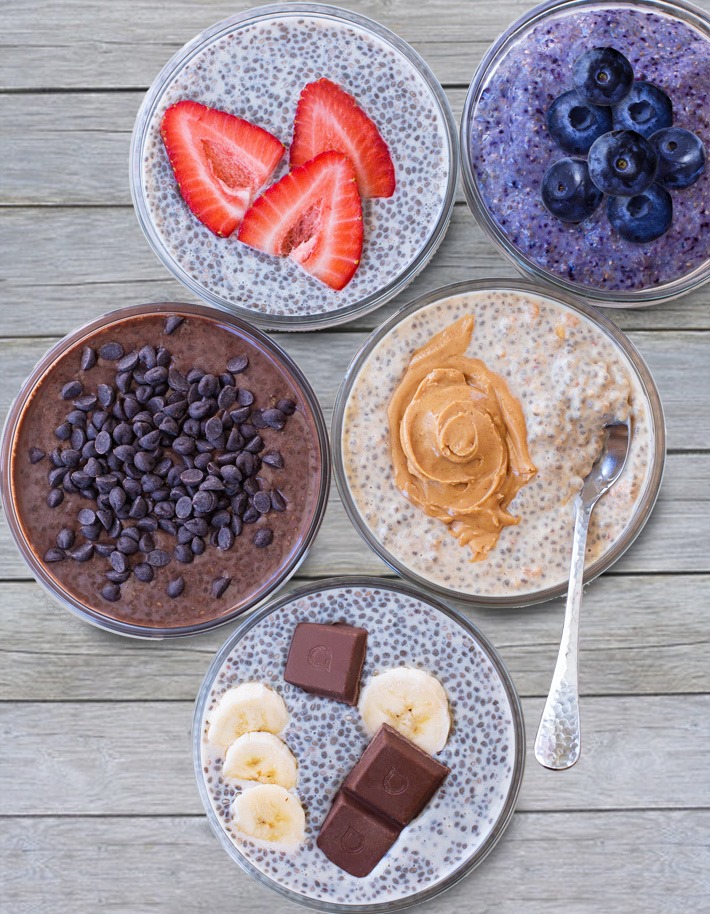 Chia Pudding Recipe – 5 Flavors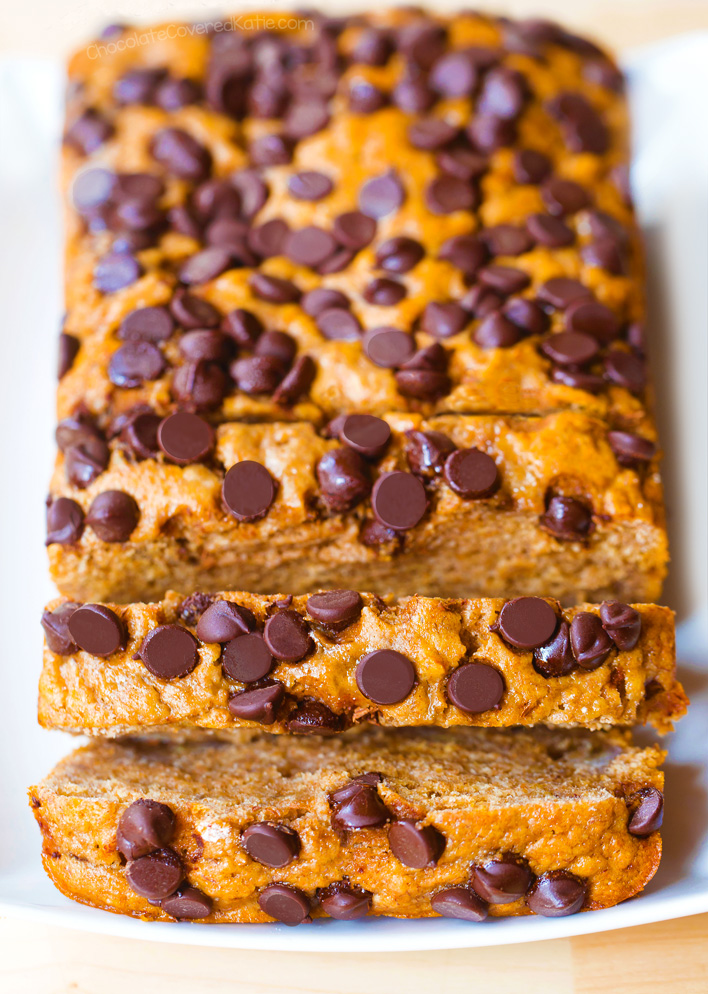 Healthy Banana Bread – OIL FREE Option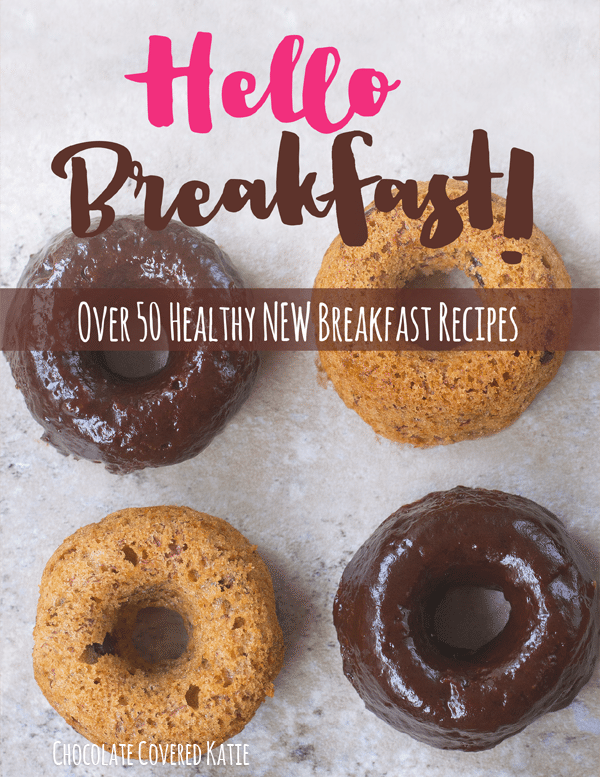 More About The Hello Breakfast ebook

4.93/5 (27)

Find more healthy recipes like this Creamy Red Pepper Alfredo Pasta at Chocolate Covered Katie.