A hearty and comforting soup with a definite kick, this Ginger Turmeric Squash Soup will is guaranteed to make you feel warm inside, whether you decide to eat it hot, or cold!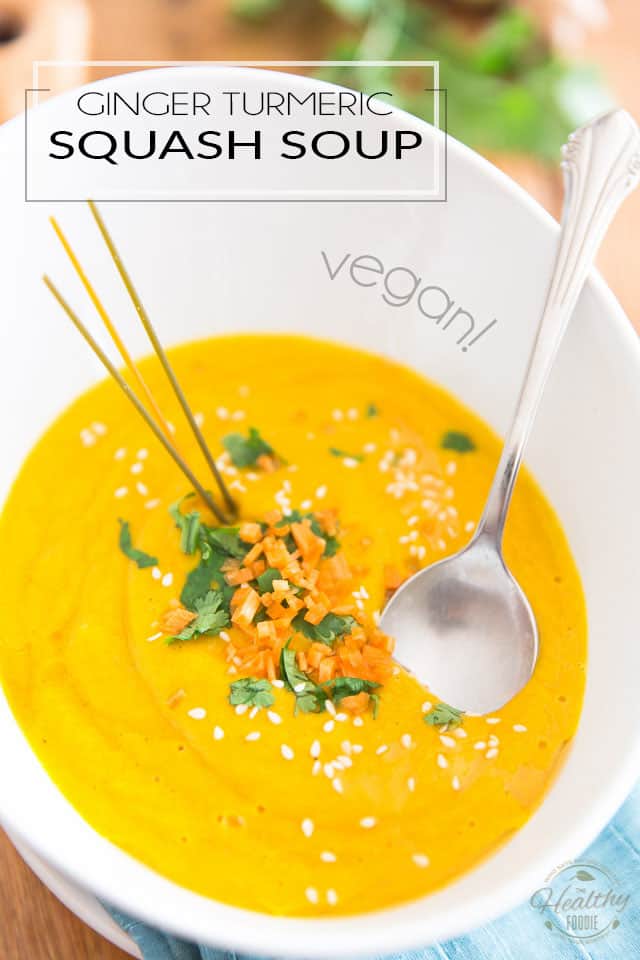 Yeah, I know, I've been loving on squash a lot lately, and you're probably thinking: "Geez lady, enough with the squash already!"
Truth is, I bought a trio of nice big ones last time I went to the grocery store: one huge spaghetti squash and 2 good-sized butternut. With the current situation, I try not to get out of the house too often, so it's been almost two weeks since I last went shopping for food. Since squash keeps for so long, they were among the last items to be used up, and when their turn finally came, I decided to go all out and baked all 3 at the same time. So yeah, I've got leftover cooked squash galore in the fridge!
What better way to use up squash leftovers than by turning them into soup? It's super easy and in just minutes, you get to enjoy a delicious, piping hot bowl of soup. But even if you didn't have cooked squash in the fridge, you could very well make this soup with uncooked, cubed squash. I'll show you…
Before you get started though, let me just give you a little warning: this soup, it packs some serious heat! Ginger does have a bit of an intense bite to it, and combined with the black pepper and turmeric, trust me, you can totally feel the heat! If you're not a fan, you might want to use less ginger and maybe consider leaving the ground black pepper out.
You can always add more later, if you wish… it's easier to add than to remove!
The post Ginger Turmeric Squash Soup appeared first on The Healthy Foodie.