What if you could whip up fresh pancake batter in TWO minutes? With this Homemade Pancake Mix Recipe, you can! Store-bought mix can be expensive and full of iffy ingredients. This one uses whole food ingredients, and lets you get fresh, hot pancakes on the table in no time.
Kids looove pancakes. Try more healthy pancake recipes like Oatmeal Pancakes, Cottage Cheese Protein Pancakes, and Fruit and Veggie Sheet Pan Pancakes.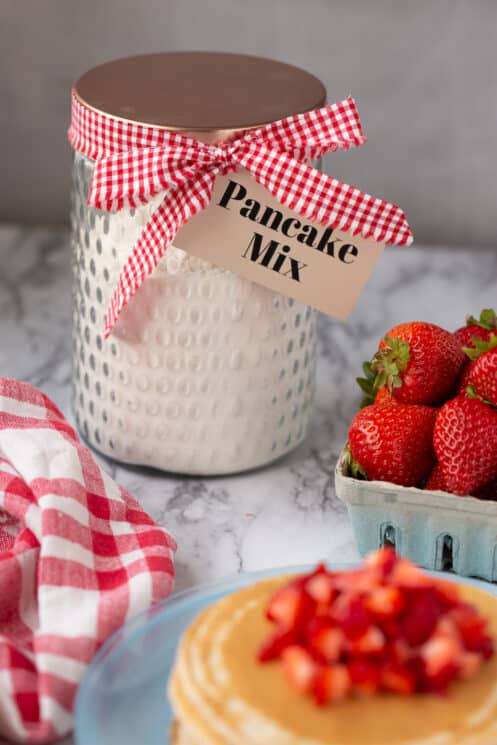 Pancake time! Who can say no to a fluffy, flavorful pancake hot off the skillet? When you've got this homemade whole grain pancake mix on hand, you can say YES to your kids' pancake requests more often. Our recipe offers the ease of a shortcut, and the goodness of from-scratch pancakes.
You'll feel good knowing your kids are eating 100% whole grains and no strange additives in their pancakes. (Some store-bought mixes even include trans fats–something you're wise to avoid!) Plus the pancakes taste great: fresh and light and delicate, thanks to white whole wheat flour.
Top your pancakes how you like; scroll to see some healthy topping ideas at the bottom of this post, or stick with the old standby: a drizzle of pure maple syrup.
How to Make Homemade Pancake Mix
It's so easy, you'll flip. Just mix all the ingredients up, and dump them into an airtight container. You might spend more time searching for a pen to label this magnificent mix than you spend actually making it.
How to Use Your Pancake Mix
When you're ready to whip up a delicious batch of pancakes, start with 1.5 cups of the dry mixture. Then add:
1 cup water
2 Tbsp oil
1 egg
Use this batter to fry up fluffy, flavorful pancakes in a hot buttered skillet. Delicious! This amount of batter will make about 10 pancakes. If you'd like thicker pancakes, you can actually modify the texture a little by adding 1/4 cup more dry mix to the batter. Experiment and find the ratio you like best.
If you find yourself with leftover cooked pancakes, they freeze beautifully! Just pull them out and pop them in the toaster for a breakfast on the go.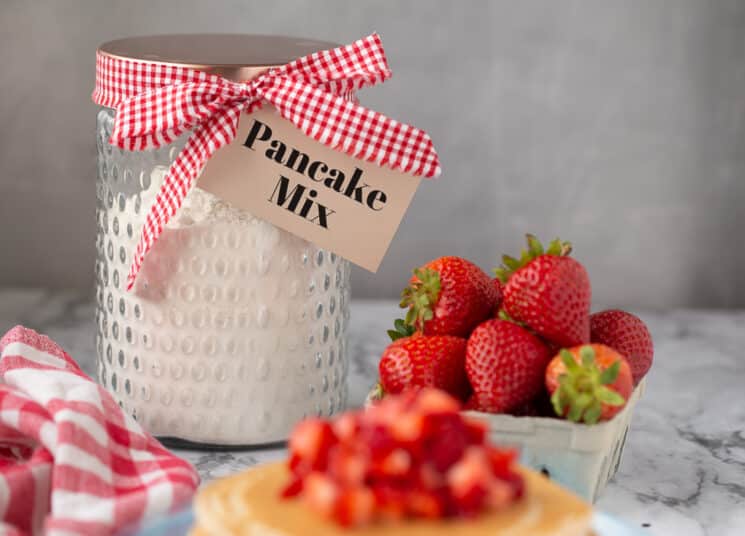 How Many Batches of Pancakes Does This Make?
After you make this pancake mix once, you'll have enough mix to make pancakes FIVE times! Doesn't the future look bright?
Tips for Storing Homemade Pancake Mix
It's important to store your pancake mix carefully, since combining the ingredients does shorten the shelf life of whole grain flour and leaveners.
First, make sure your container is airtight. A jar works well, and so does a gallon-sized zip-top freezer bag.
Next, choose cold storage of you can. We actually like to keep the mixture in the freezer, where it will stay fresh and yield fluffy pancakes for up to a year. Refrigerator storage also works.
If you plan to make pancakes often in a short time span, you can keep this mixture in your pantry. Try to use it up within two months if you're storing at room temperature.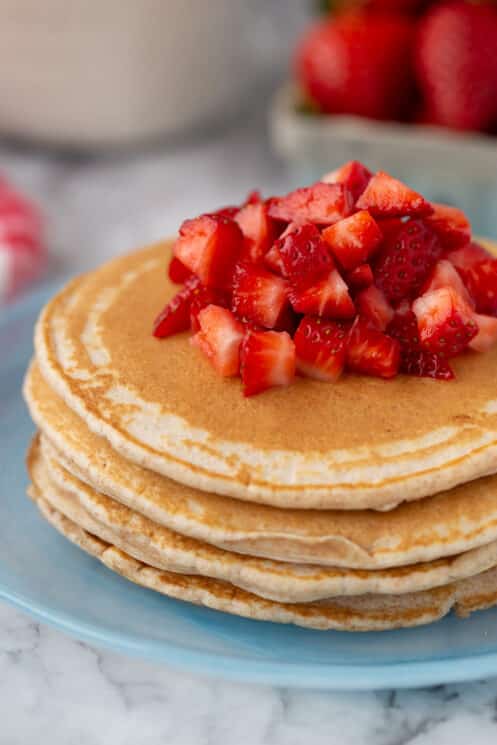 Yummy and Healthy Pancake Add-Ins
One of the fun things about having this mix on hand is that you can use one base recipe to create lots of fun pancake flavors using different add-ins. Try these flavors:
fresh or frozen berries
apple chunks and cinnamon
finely-chopped nuts
poppy seeds and lemon zest
dark chocolate chips
coconut flakes and banana slices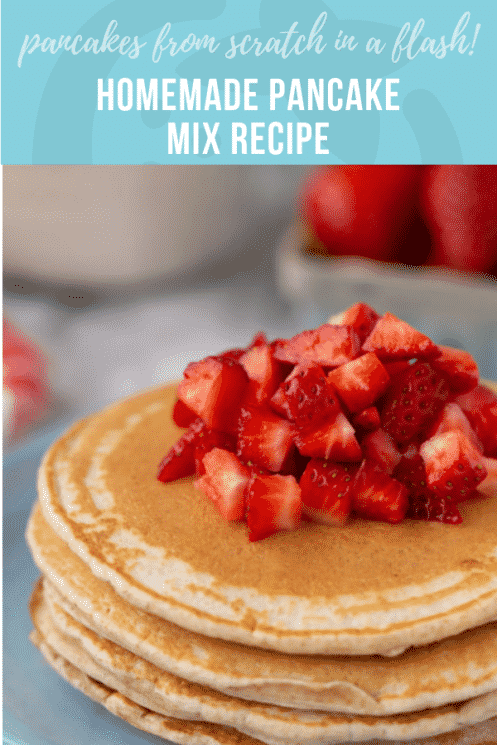 Homemade Pancake Mix
Ingredients
5

cup

flour, white whole wheat

1 1/4

cup

powdered milk

1/4

cup

sugar

2

tablespoons

baking powder

1

tablespoon

salt
For every 1.5 cups dry mix, add:
1

cup

water

2

tablespoon

olive oil

1

large

egg
Instructions
Put the first six ingredients in a big bowl.  Mix together with a whisk.  You can use all whole wheat if you want, or even try other whole grain flours.

Place in an airtight container. Store in the freezer for up to a year, or at room temperature for up to three months.

When you are ready to make a batch of pancake, stir together 1 1/2 cups of dry mix, water, olive oil and an egg.
Norpro Batter Dispenser                    Presto Liddle Griddle
The post Homemade Pancake Mix Recipe appeared first on Super Healthy Kids.