Rich, creamy and super tasty to boot, this Instant Homemade Cashew Milk only requires 2 ingredients and 1 minute of your time to make. Plus, unlike many other dairy-free milk alternatives, this one requires no soaking and no straining either; it's a no fuss, no mess, zero waste recipe!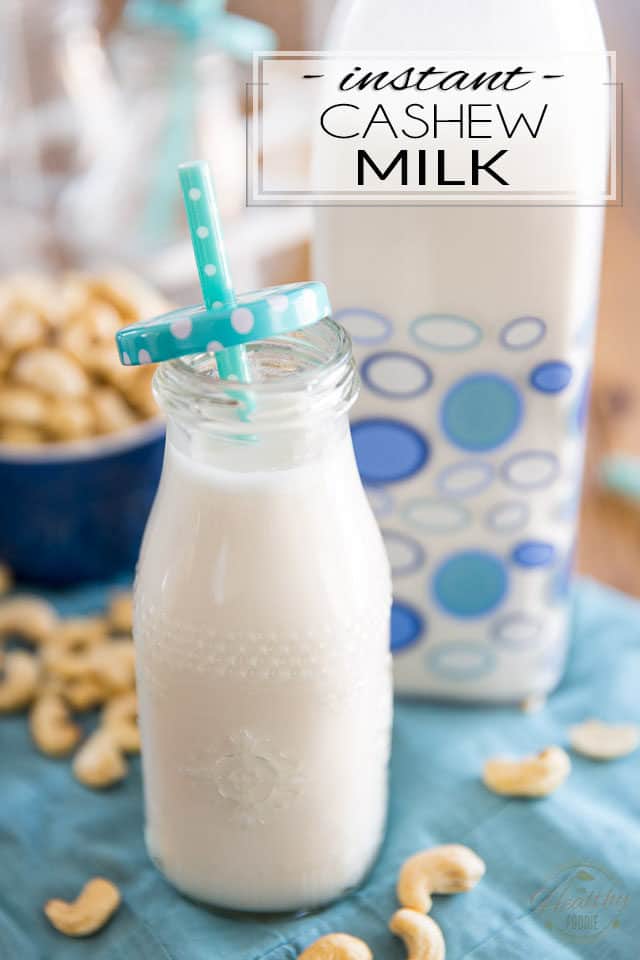 After I'd recently discovered how crazy easy — and waste-free — it was to make oat milk at home, I was super excited and completely sold on it and thought for sure that I could never find another solution that would beat that. 
Until I did… This homemade cashew milk beats that oat milk hands down, as well as many other kinds of non-dairy milk alternatives, I'm sure of it!
Seriously like I said, making cashew milk could not be easier! Simply throw a handful of cashews and a some water in a high-speed blender and let her rip for about a minute… no need to soak or even rinse the nuts first, and no need to strain the milk after, either. For real. One tiny measly little minute of your time is absolutely all it takes to make this milk.
You don't even need to actually measure, either. The ratio of cashews to water will determine the thickness/creaminess of your milk. Personally, I find that 1/2 cup of nuts per finished liter of milk (that's about 3-1/2 cups of water) yields a perfectly decent milk that has a nice creaminess to it, tastes great, doesn't cost a fortune, and won't add a crazy amount of calories to my morning bowl of cereal. 
If you find that my ratio yields a milk that is too light for your liking, simply add more cashews. A full cup of cashews per liter of milk will yield a consistency that's closer to that of whole milk. Just keep in mind that the more nuts you use, the more expensive your milk will be in the end, and the more calories it will contain… 
The post Instant Homemade Cashew Milk appeared first on The Healthy Foodie.