Naughty White Russian is a cocktail made with vodka, Kahlua, Rumchata, and heavy cream, served over ice in a low ball glass with the rim dipped in brown sugar and cinnamon. Try my Drunken Snowman Cocktail for another alcoholic beverage perfect for the winter months. 
Naughty White Russian
This drink is a little bit naughty because I messed with the Classic White Russian recipe. (And, you may be on the naughty list if you have too many of these…) I added RumChata to the drink itself and dipped the rim of the glass in simple syrup, brown sugar, and cinnamon. It's a dessert-like adult beverage that is easily sippable sitting around a fire on a cold winter's evening or as a nightcap.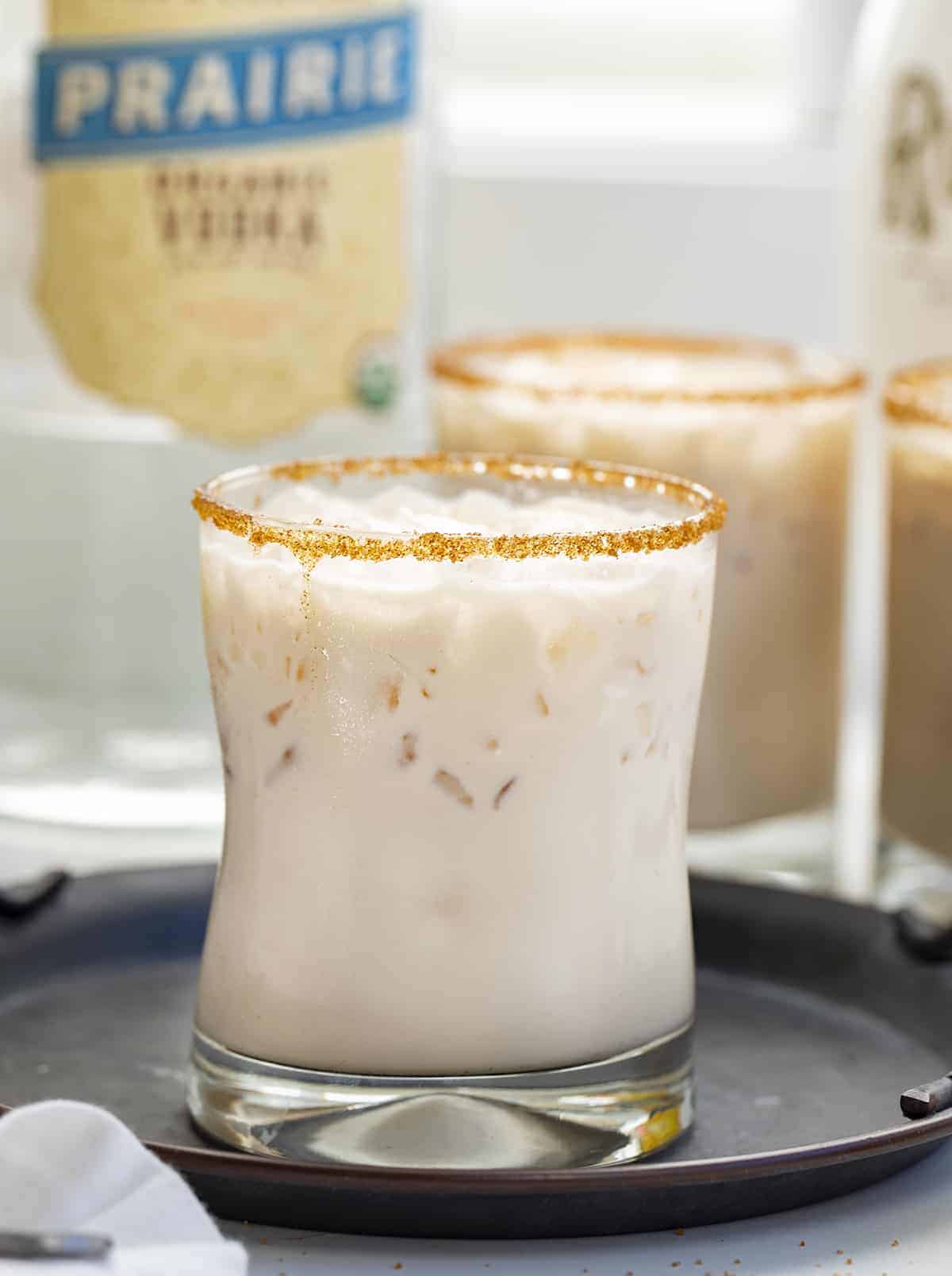 Ingredients
Simple Syrup: Simple syrup is added to many cocktails; this time, the rim of the glass is dipped into it before being dipped into the brown sugar-cinnamon mixture. If you don't have any on hand, make your own simple syrup to have on hand.
Brown Sugar and Cinnamon: Mix together the brown sugar and cinnamon to add to the rim of the low ball glass.
Vodka: Choose your favorite brand of vodka to use in the drink. You may notice that vodka is not the primary ingredient in this cocktail, like in the Classic White Russian. I saved that job for RumChata.
Kahlua: Kahlua is a coffee-flavored liqueur. You could also use a shot of espresso or brewed coffee in place of the Kahlua if there is already enough liquor added to the drink.
RumChata Cream Liqueur: This cream-based liqueur is made with rum, cinnamon, and vanilla. Baileys is another creamy liqueur, but with chocolate flavor and Irish whiskey. However, Baileys does have a vanilla and cinnamon liqueur that you could use in this drink.
Heavy cream: Heavy cream is at least 30% fat (as opposed to half and half, which is only 10-18% fat). In a pinch, you could add milk or even coffee creamer to this drink.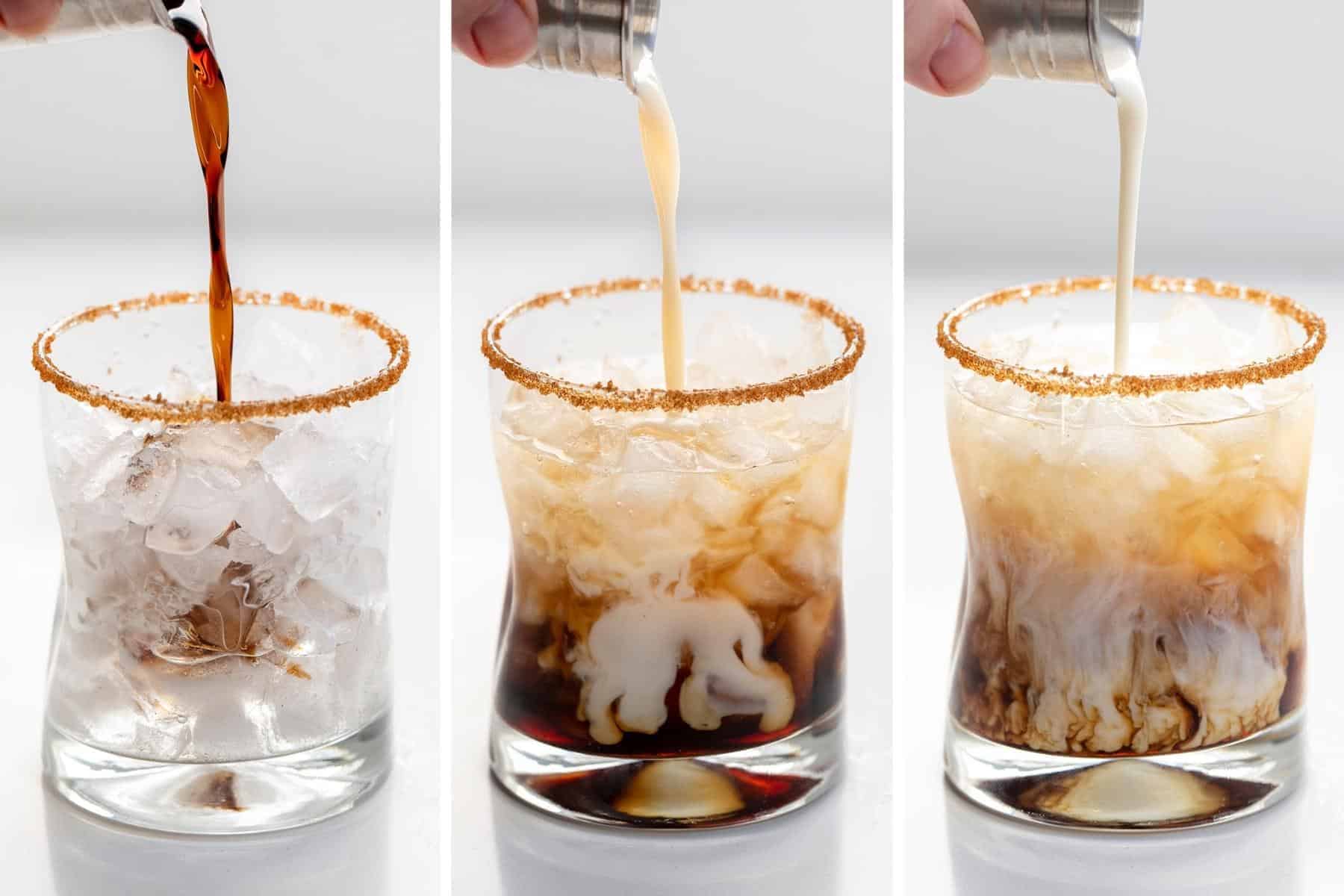 How to Make a Naughty White Russian
To get started making this flavorful drink, first, add simple syrup to a small plate or bowl. Then, mix together the brown sugar and cinnamon on a second plate or in a bowl. Dip the rim of an old-fashioned or low ball glass into the simple syrup, followed by the cinnamon-sugar mixture.
Once the rim has been coated, fill the glass with ice. Pour the vodka and Kahlua over the ice. Finally, add the RumChata and heavy cream. Stir everything together and sip away! Cheers!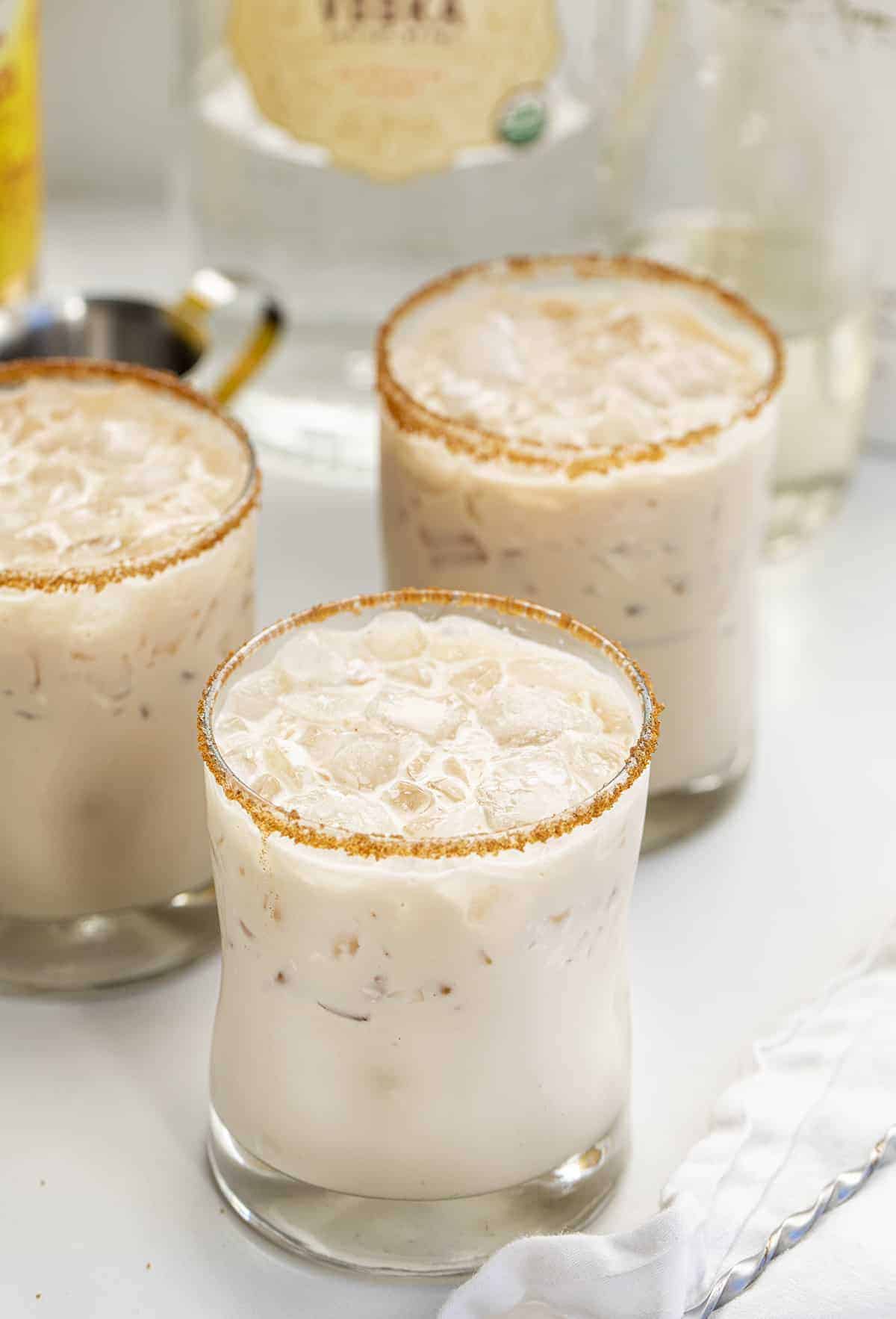 Looking for More Adult Beverages?
Ingredients
crushed ice

1

teaspoon

simple syrup

1

teaspoon

brown sugar

¼

teaspoon

cinnamon

1

ounce

vodka

1

ounce

Kahlua

2

ounces

RumChata

1

ounce

heavy cream
Instructions
On a small plate add simple syrup.

On a separate small plate, mix together brown sugar and cinnamon.

Dip the rim of a low ball glass in the simple syrup and then in the cinnamon and sugar mixture.

Fill the glass with crushed ice. Add the vodka and Kahlua. Top with RumChata and heavy cream and stir to combine. Cheers!
Nutrition