These Paleo Keto Crackers are made with nuts and seeds and perfect for a charcuterie board or along side this delicious keto cauliflower hummus!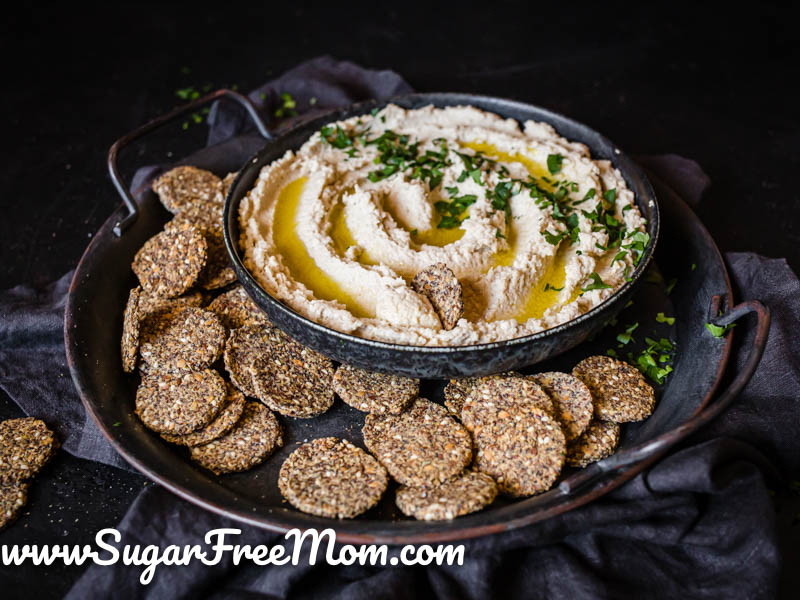 How to Make Paleo Keto Crackers
When you're on a keto diet, often dairy is in every recipe you see. But when you aren't able to enjoy dairy due to an allergy or sensitivity it can be challenging to find recipes, especially snacks that don't contain cheese. Making a paleo friendly and keto cracker doesn't take much time or effort in the kitchen. We used ghee in this recipe and while it is not technically dairy free because it's butterfat, it is lactose free. So if you're avoiding dairy due to a lactose intolerance, many people can still enjoy ghee without problems. You could also use coconut oil in its place if you cannot have ghee. This is a fun crunchy cracker you'll love to use to dip into our keto cauliflower hummus!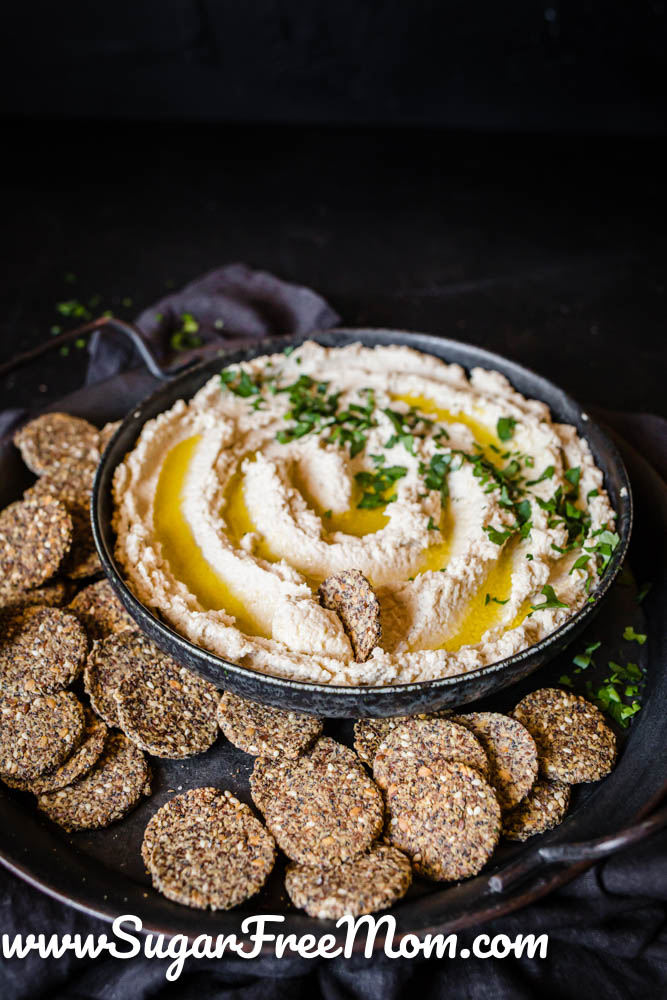 Tools to Make Paleo Keto Crackers
Baking sheet pans– You always need a few good baking sheet pans for keto cookies and keto granola. For this recipe you'll need two large ones to spread out the batter for the crackers nice and thin. 
Parchment paper– I use parchment paper quite a lot in my keto kitchen. It's definitely helpful for sticky dough like when making my sugar cookies, or rolling out keto pizza rolls and cauliflower pizza.
Cookie cutters for fancy circle shapes- Completely optional as you can just make these crackers into squares, but totally fancy when you feel like making a statement for your guests.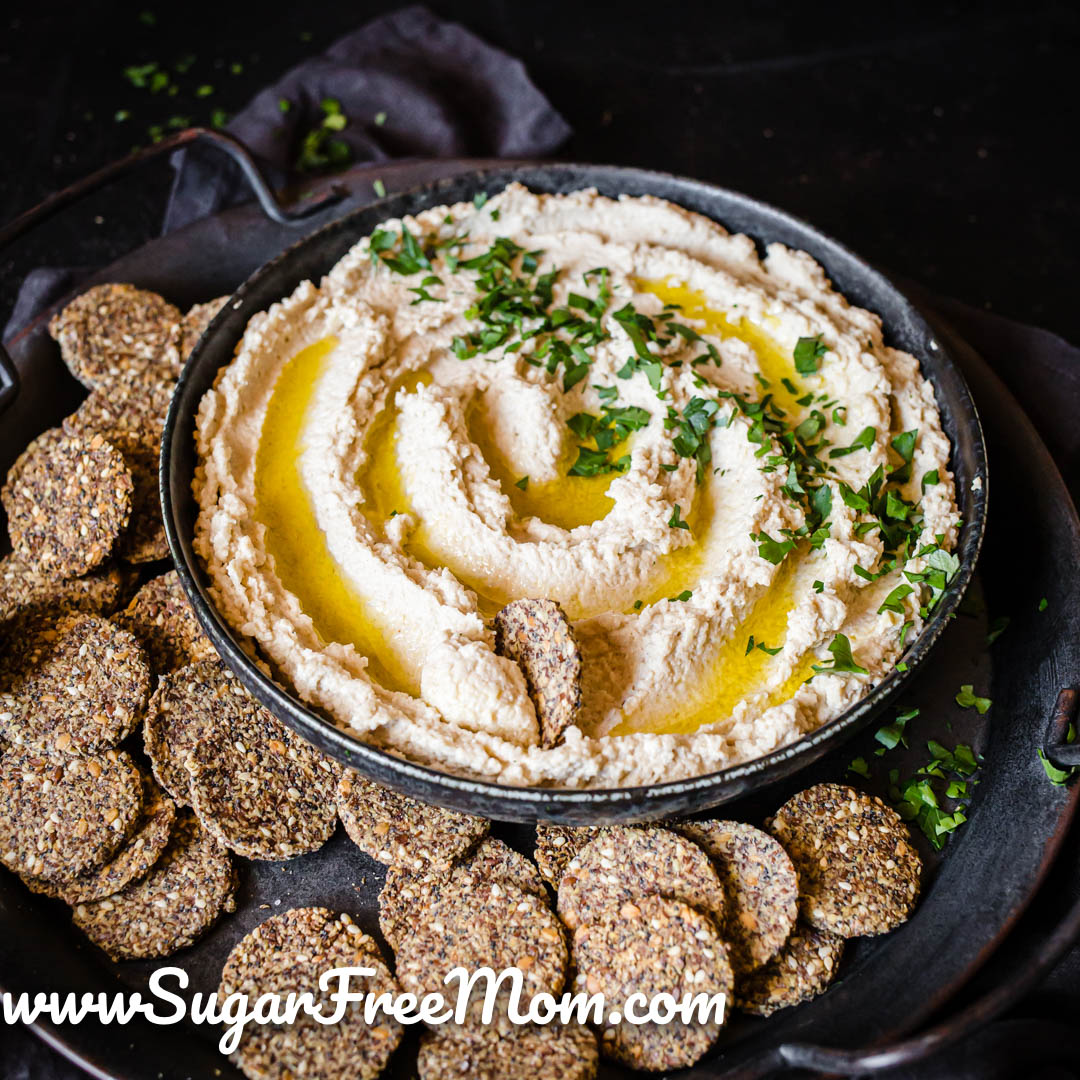 Meal Plan Membership
If you love recipes like this for yourself and family, you will love my meal planning membership. Weekly low carb and/or keto meal plan sent to your inbox every Friday with shopping list. The best part about my meal planning feature is that if you aren't interested in one of the dinner meals you can swap it out for something else! You can even change serving sizes and the shopping list will adjust! It pretty amazing software and I hope you'll take advantage of it. You can have a sustainable low carb/keto lifestyle when you're well prepared and planning meals is the key!  LEARN MORE TODAY!
Right now for the New Year we are giving 25% OFF our Meal Plans Membership! Use Code NY2020 at check out! Learn More!
Paleo Keto Crackers
Paleo Keto Crackers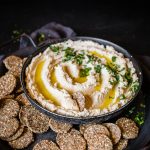 1 cup ground flaxseed
1/2 cup almond meal
1/4 cup pumpkin seeds ((whole or roughly chopped. I like mine chopped))
2 tbsp chia seeds
2 tbsp sesame seeds
2 tbsp poppy seeds
2 tbsp whole flaxseeds
1 tsp sea salt
1 tsp onion powder
1/2 tsp-1tsp to taste ground cumin
1/4 cup  water
2 tbsp ghee (or coconut oil)
2 eggs
sea salt to garnish
Pre-heat oven to 350⁰ F.

Place all of the dry ingredients into a large mixing bowl.

Melt the ghee and add the ghee, water and eggs to the bowl and mix thoroughly.

Set aside for 10 minutes.

Line two large or four small baking trays with baking paper.

Divide dough into two or four, depending on your trays.

Roll dough out in-between two sheets of baking paper until about 1/8 inch thick.

Place sheet with dough onto tray and using a sharp knife cut into squares (I used a
cookie cutter to make fancy circles but it is time consuming and generates a
bit of wasted dough).

Repeat until all dough is on trays, sprinkle with sea salt and then bake for 35
minutes.

Remove from oven, turn oven off and carefully score the lines again to create individual crackers.

Return to the oven and leave until cool.

Store in an airtight container for up to 1 week.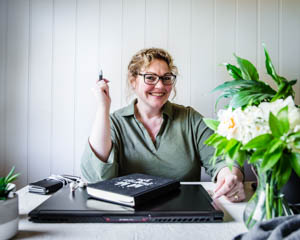 Naomi is the force behind Naomi Sherman | Food Creative. She is passionate about recipe development, food photography and styling. An accomplished home cook who was diagnosed with an auto-immune disease eight years ago, Naomi started to explore the connection between healthy, whole food and her symptoms, and a new love was born. She fiercely believes that what you put in your body is one of the most important factors for your physical, and mental, wellbeing.