Peanut Butter Cheese Ball Dip is an EASY dessert dip recipe for a party! Peanut butter, cream cheese, butter, sugar and LOTS of chocolate make this the perfect addicting dip recipe for any occasion.
Every time I make this dip people attack it with spoons. It's THAT GOOD.
Pin it now to save for later
Easy Sweet Cheese Ball Dip
I love it when I go to a party and everyone is on a diet. And by "love it" I really mean "hate it" because even though I'm trying to lose weight, parties are not the place to worry about calories. I mean, sure, if you're going to a party every day then maybe worry about it. But if it's a once in awhile thing, then eat whatever you want, in moderation of course.
Last weekend I went to a party hosted for two friends who were having a birthday. We all started out eating celery and carrots and talking about Weight Watchers and calories…but thankfully by the end of the night the ladies were chowing down on this Peanut Butter Cheese Ball just like I knew they would be.
No one can resist the Peanut Butter Cheese Ball. It's futile, like trying to avoid the Borg.
When a sweet dip recipe is made with peanut butter, butter, cream cheese, and powdered sugar and then coated in chocolate chips, it's unavoidable. And I don't know if I want to be friends with the person who can avoid it, you know? They're probably skinny.
How to make a Peanut Butter Cheese Ball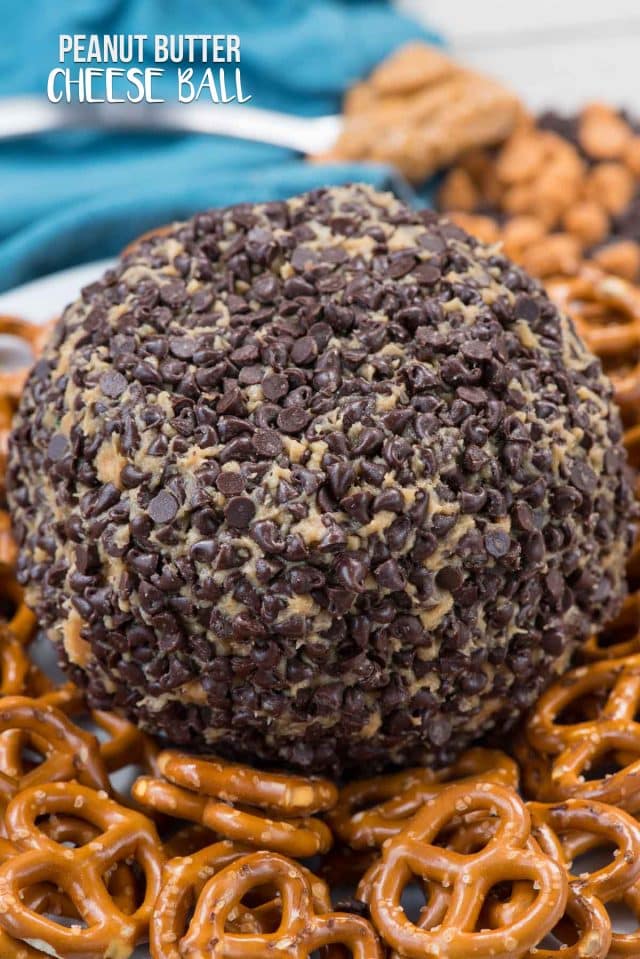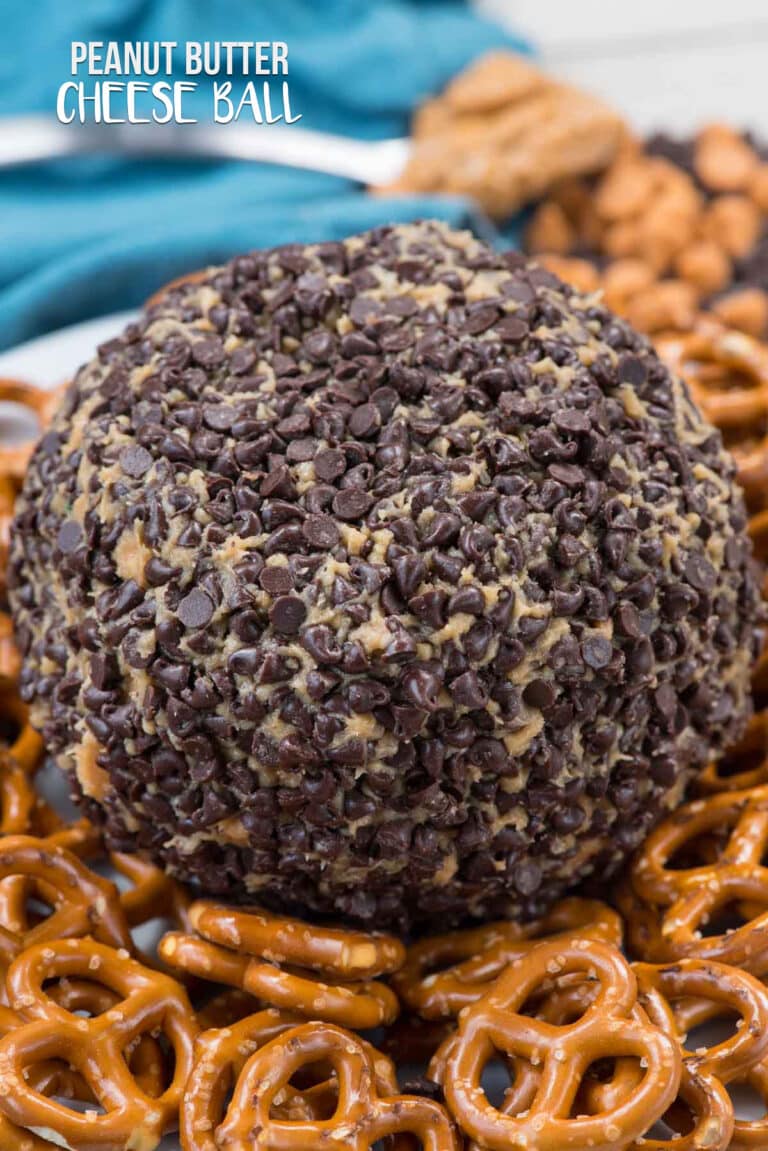 Growing up, my mom made this amazing cheeseball recipe. It had blue cheese and cream cheese and green onions and was coated with chopped nuts. She's stopped making it because she can't find the special blue cheese anymore, so I need to re-create that recipe to share with you all. Until then, I'll keep sharing SWEET cheese balls!
Until recently I didn't know that a cheese ball could be for dessert. I was used to seeing savory ones all over the place but then I made a Chocolate S'mores Cheeseball and a Muddy Buddy Cheese Ball and was HOOKED.
If you're looking for a sweet and easy dip recipe for a party, THIS IS IT. Everyone seems to forget dessert when they're planning big parties for things like the Super Bowl, but don't forget the sweet stuff. People want a little dessert to wash down all the pizza and cheesy dip.
I always serve this with pretzels for a salty sweet treat but usually people just end up using spoons. Save the calories and just put out some dessert spoons next to the cheese ball. Or maybe some celery? LOL
Last Updated on January 27, 2022
The post Peanut Butter Cheese Ball Dip appeared first on Crazy for Crust.