Thick and creamy pumpkin oatmeal – a super healthy breakfast recipe that tastes like homemade pumpkin pie!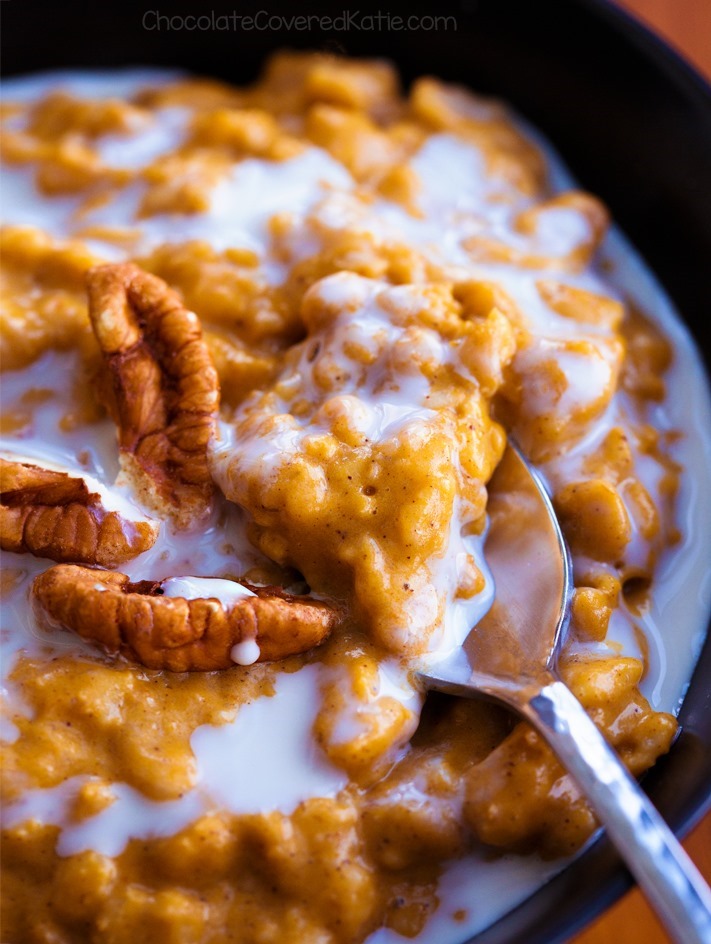 Healthy Pumpkin Oatmeal
This classic pumpkin oatmeal recipe needs just 5 ingredients.
Plus it's packed with wholesome nutrition and will keep you full for hours!
The quick recipe serves one, or it's also easy to scale up if you want to feed a family or meal prep for the week.
Trending Recipe: Pumpkin Banana Bread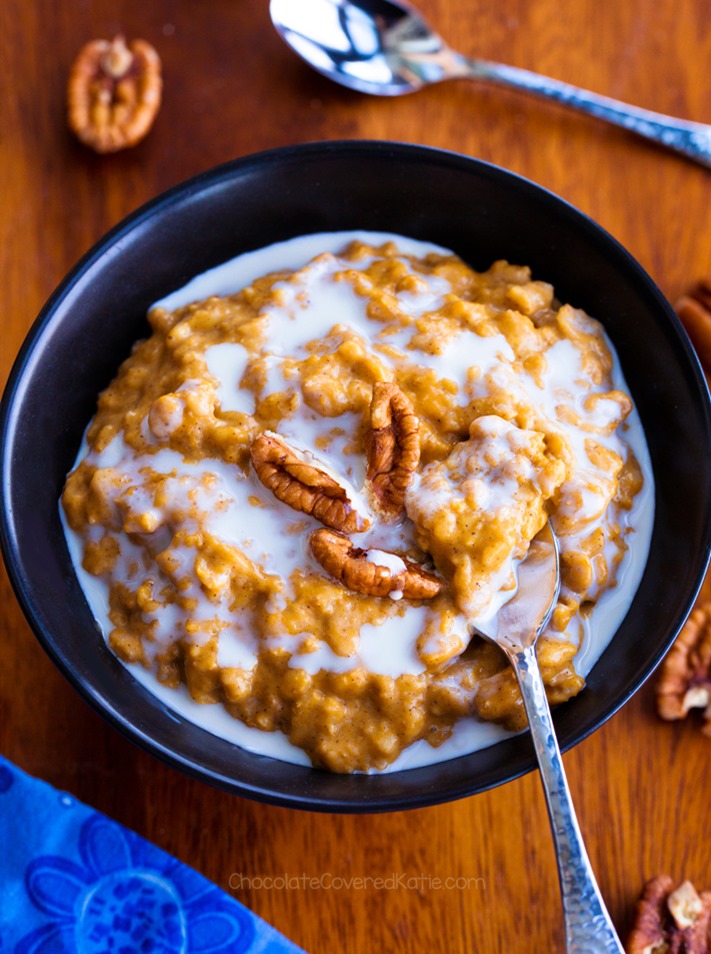 Pumpkin Pie Oatmeal Add-In Ideas
Pecans
Almonds
Hemp Seeds
Chia Seeds
Shredded Coconut
Melted Almond Butter
Crushed Walnuts
Cinnamon
Or stir in some flaxseeds, raisins, cranberries, pineapple, banana, protein powder, crumbled keto muffins, coconut milk, shredded carrot, blueberries, diced apple… there are so many delicious options you can add to the base oatmeal recipe, proving healthy eating definitely does NOT need to be boring!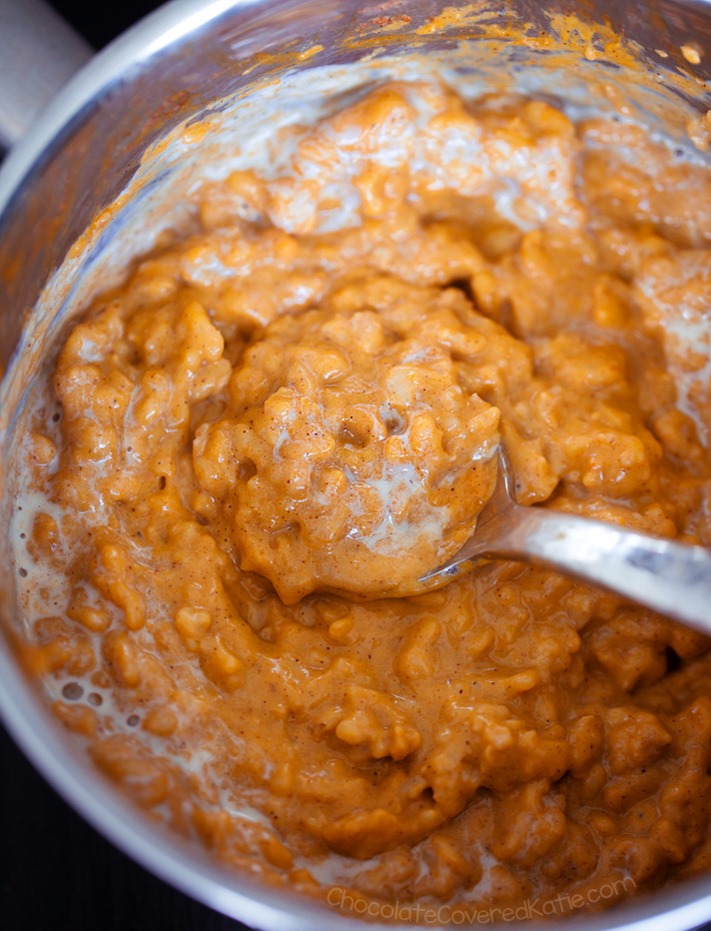 The pumpkin oatmeal can be vegan, gluten free, dairy free, soy free, and nut free.
My favorite way to eat it is with almond or coconut butter melted into the hot oatmeal and crushed pecans or walnuts sprinkled on top.
I also know a lot of readers who like to add a scoop of healthy Banana Ice Cream on top of their pumpkin oatmeal.
If you can't find canned pumpkin, you can also use mashed sweet potato, roasted pumpkin, butternut squash, or kabocha squash.
Leftover canned pumpkin? Make this Crustless Pumpkin Pie!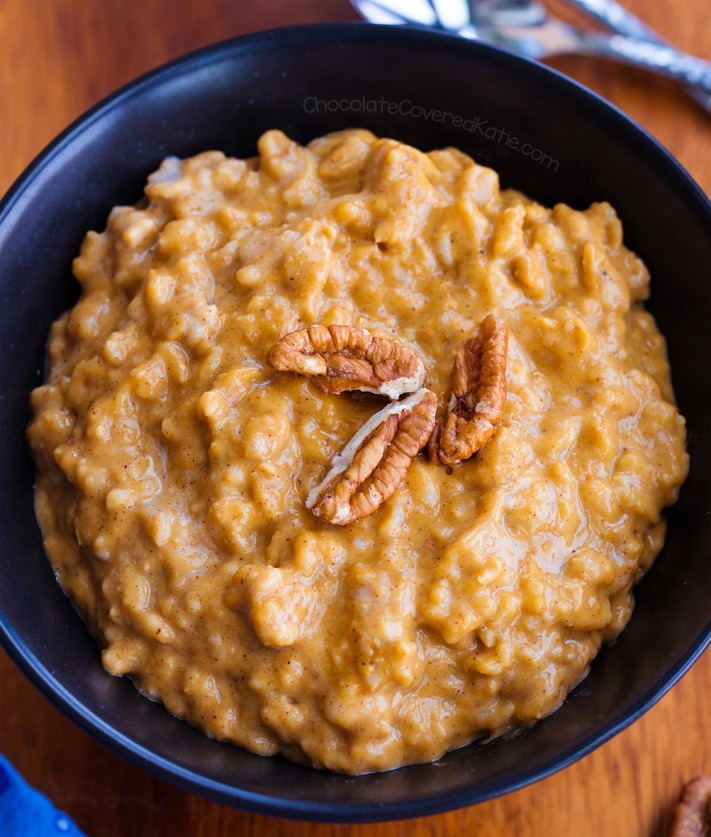 How is this the best pumpkin oatmeal?
The secret is to add more milk than most other oatmeal recipes, which makes the oatmeal 10x creamier.
And you can make it in the slow cooker, microwave, or on the stovetop – whichever you prefer.
For overnight pumpkin oatmeal, make the recipe and refrigerate the night before. You can eat them cold or reheat in the morning.
You can also swap rolled oats for steel cut oats if you wish: simply scale the amount of oats back to 1/4 cup and keep everything else the same.
Also Try This Peanut Butter Brownie Baked Oatmeal
(Above – Watch the video of how to make pumpkin oatmeal)


Pumpkin Oatmeal
Also try these Overnight Oats – 15 recipes
Pumpkin Oatmeal

5/5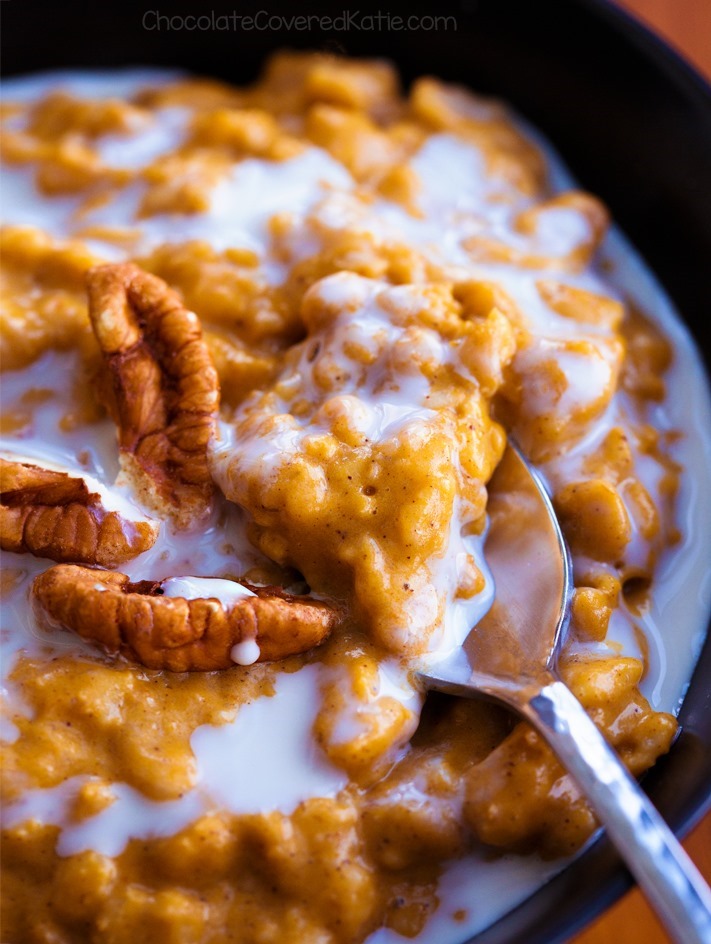 Ingredients
1/2 cup rolled oats
1 cup milk of choice
1/3 cup pumpkin puree or pie filling (or mashed sweet potato)
1/2 tsp pumpkin pie spice, or sub cinnamon
scant 1/4 tsp salt
2-3 tbsp sweetener of choice, or as desired
optional 2 tbsp almond or coconut butter
optional 1/4 tsp pure vanilla extract
toppings of choice – crushed walnuts or pecans, raisins, sliced banana, extra milk of choice, coconut milk, or nondairy creamer for the top, etc.
Instructions
Bring all ingredients except vanilla to a boil. Stir until thick. Turn off heat, and add vanilla if using. Eat hot or cold. If you'd prefer, you can also make the recipe in the microwave or slow cooker instead of on the stovetop. For a crockpot version, I'd recommend quadrupling the recipe and cooking on high 3 hours.
More Healthy Fall Recipes: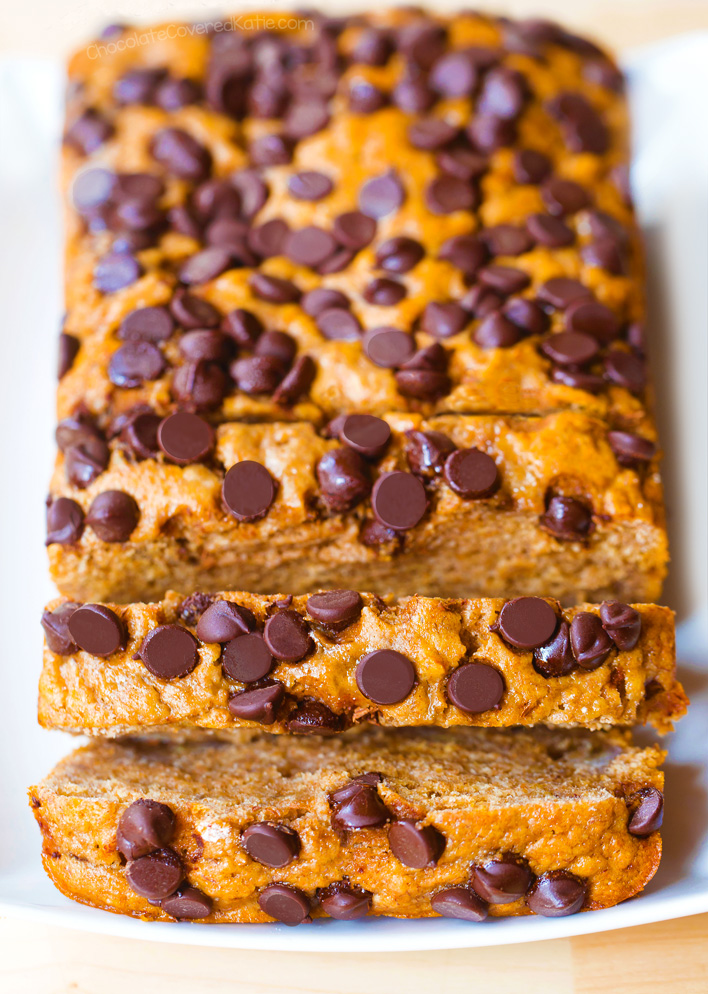 Healthy Banana Bread – OIL FREE Option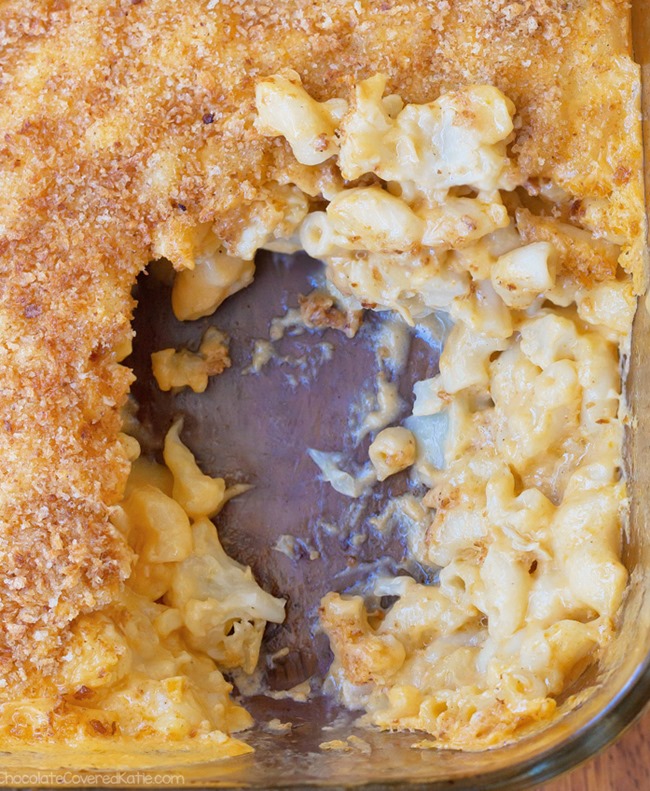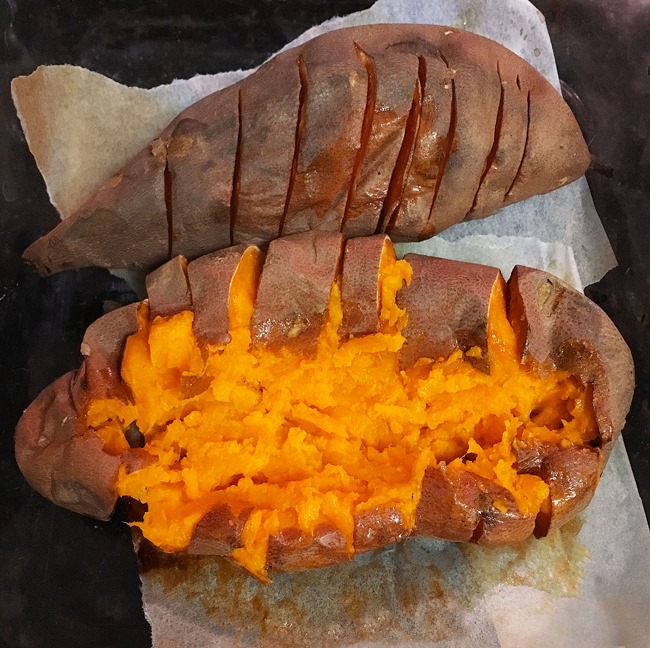 How To Cook Sweet Potatoes – The Better Way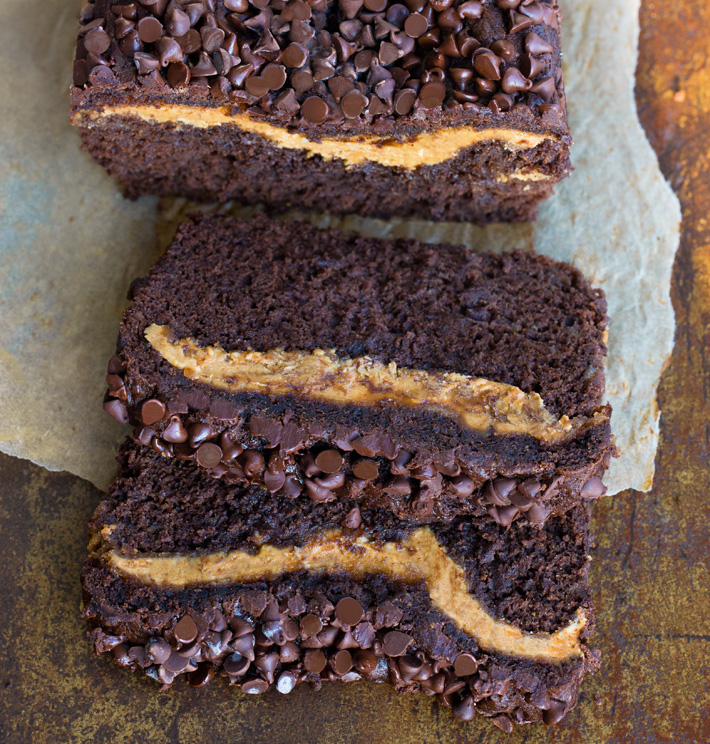 Vegan Chocolate Peanut Butter Bread
(Recipe from my breakfast ebook)

5/5 (5)

Find more healthy recipes like this Pumpkin Oatmeal at Chocolate Covered Katie.