Schwarz(roggen)brot mit Buttermilch
Submitted by
alcophile
on February 25, 2022 – 12:31pm.
This recipe is from Der Foodcoach blog. I did not have Austrian R960 (light) rye flour or fresh yeast and used King Arthur Medium Rye and IDY instead. But I do have a lot of Wingold Dark Rye from Bay State Milling via NYBakers that was used for the Schwarzroggen (black rye).
The dough rose more slowly than expected. In a prior attempt of this recipe, I saw little activity in the 3 hour cold proof. This time I let the dough proof at 21 °C instead of in the refrigerator, and it had achieved ≈85% rise in 3 hours. It could be the IDY was not mixed properly in the stiff dough; I could see grains of IDY in the dough even after mixing. It would have been better to dissolve the IDY in the water used for the main dough. It could also be that the hydration was too low because of the substitution of medium rye for the light rye. I'm still getting the used to the proper hydration of rye dough.
Formula: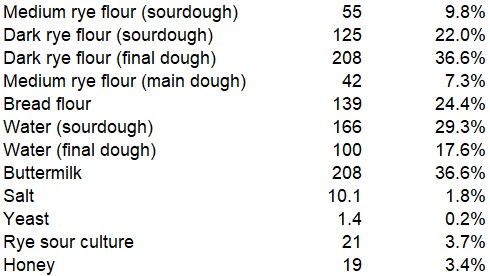 The loaf was baked a total of 60 minutes because I had read on another German-language blog that dough that uses R2500 flour should be baked not less than 60 minutes. The crumb is tight and only slightly sticky. The bread has a pronounced sour, not surprising with the sour culture and buttermilk. I liked the flavor but the sourness does limit the generality of the bread.
A slice at 5 days post-bake from near an end of the loaf shows some loss of structure. Is this due to poor shaping, incorrect hydration, or incorrect proofing?