Free of gluten and added sugar, these Vegan Date Squares are just as good, if not better, than the real thing! Super moist and deliciously tasty, they're the perfect replica of your typical soft, sweet and crunchy date square.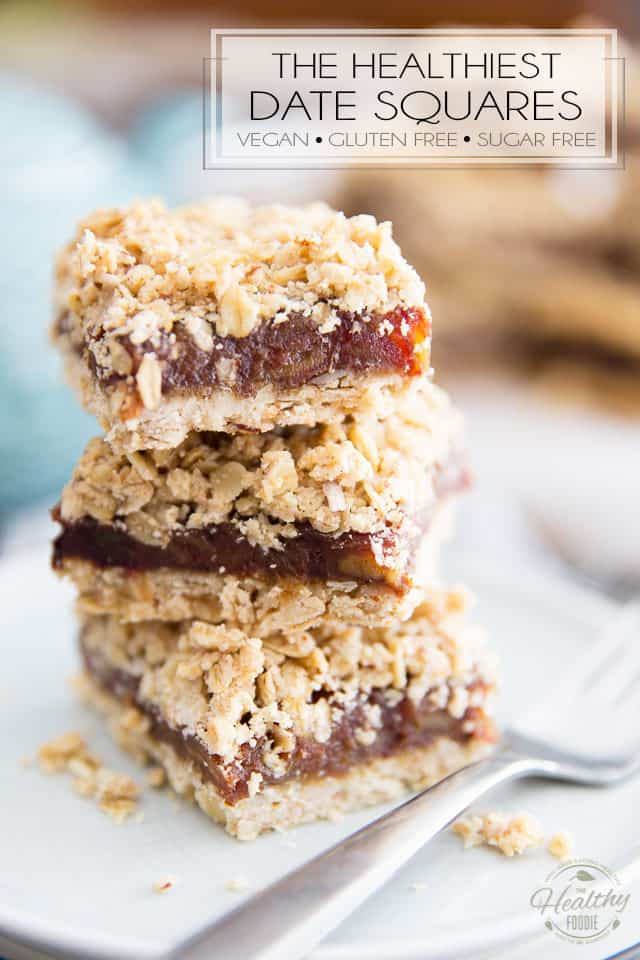 Date Squares are another Holiday staple in this household… I think it's mainly due to the fact that they happen to be one of my son's favorite treats. He doesn't have much of a sweet tooth but these, he has a very hard time resisting! And the mother in me likes to make sure that there will be at least one treat on the dessert on the table that will appeal to him!
As such, I think that this would be the one recipe for which I have created the most versions throughout the years. Honestly, though, I think that this one is the healthiest I've ever come up with! These guys contain no animal products whatsoever – of course – no gluten and not a grain of added sugar. Still, they are deliciously sweet and will tantalize your taste buds with all kinds of not-so-subtle hints of orange and coconut, as well as a decadently rich and buttery flavor. Their texture is melt-in-your-mouth soft and creamy, yet they are pleasantly crunchy and slightly crumbly, just like any good Date Square should be… The dream!
And one of the best things about Date Squares is that they are super quick and easy to make and won't have you dirtying up the entire kitchen, either. I get the feeling I'll be making those often… not just for the Holidays!
The post The Healthiest Vegan Date Squares appeared first on The Healthy Foodie.