Ooey gooey, melty, chocolatey unbaked brownies – the perfect recipe for those days when you just really need a brownie!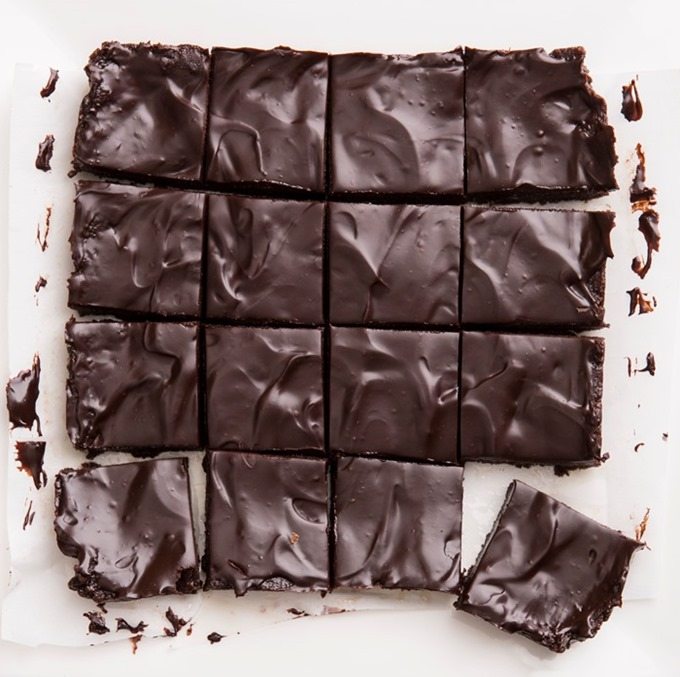 And if you're anything like me, that would be every day.
Good thing these babies freeze well!
Brownies are my Kryptonite. I love them even more than chocolate chips cookies.
Think about it: you only get a small amount of chocolate when you eat a chocolate chip cookie; whereas with a brownie, the entire thing is melty, gooey chocolate.
Also Try These Almond Butter Brownies – Flourless & Vegan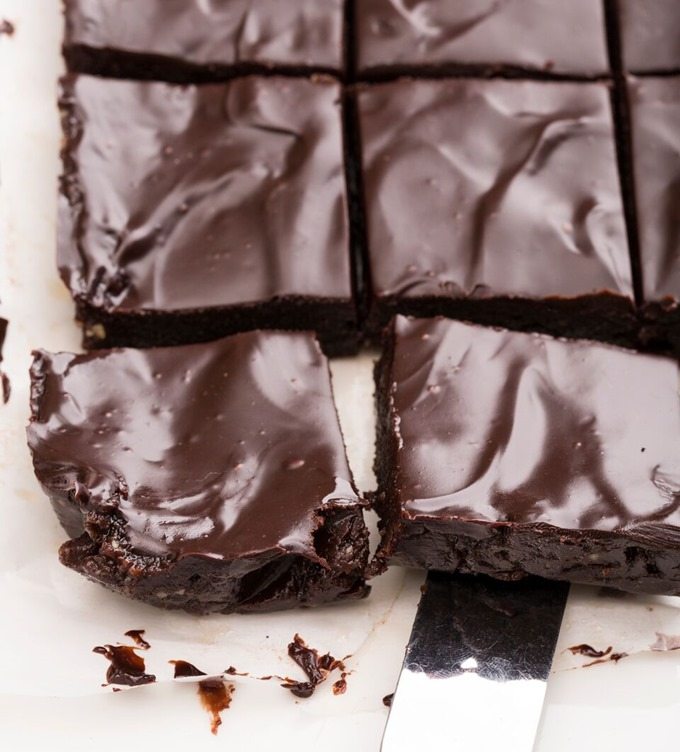 All chocolate is always going to be better than some chocolate.
If you put a plate of brownies down in front of me, you can pretty much do anything you want without me noticing.
My mind will only be thinking about the plate of brownies in front of me and how to stop myself from eating all the brownies.
I'm having a hard time writing this post, because there are brownies on my computer screen, and it's making me hungry.
I want all the brownies. ALL THE BROWNIES!!!
What I Eat In A Day As A Vegan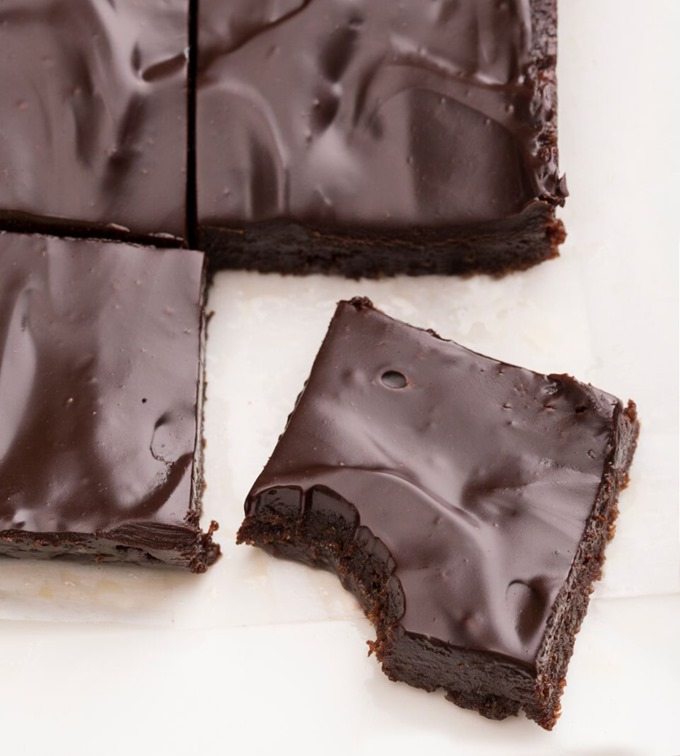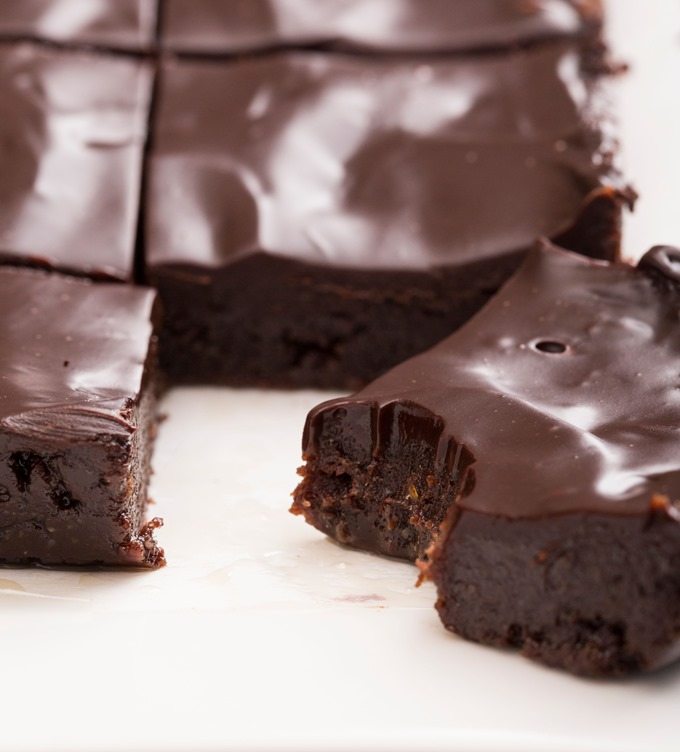 So about these unbaked brownies…
The recipe takes 5 minutes to prepare and can be raw, gluten free, egg free, dairy free, soy free, and vegan.
They are like a cross between a brownie and a chocolate candy bar – and secretly GOOD for you at the same time!
If you make the brownies and post a picture, feel free to tag @ChocolateCoveredKatie on Instagram so I can see and like your photos.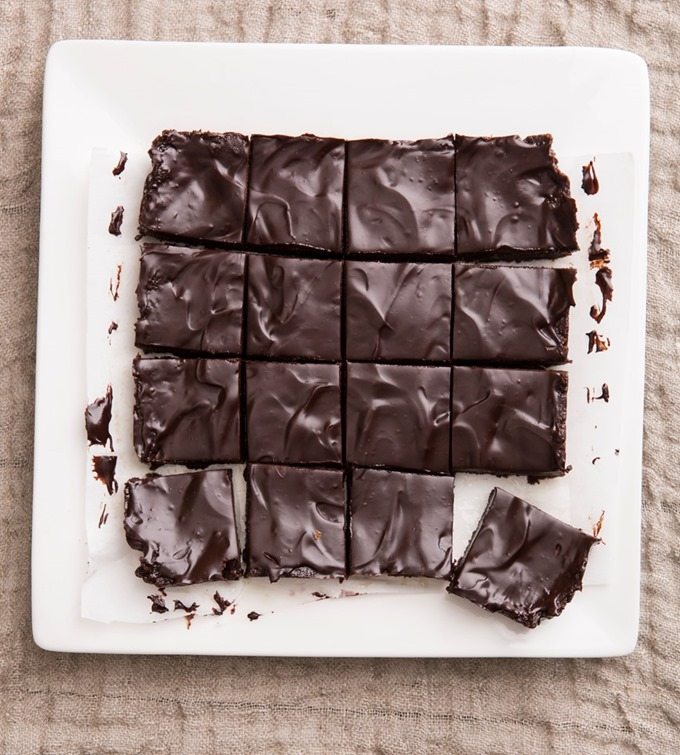 Leftovers (if there are leftovers… how could there possibly be leftovers?!) can stay out for a few days, making these brownies a fantastic option for a bake sale or to ship to faraway friends.
I'd recommend shipping them unfrosted or simply spreading melted chocolate chips on top if they'll be left out for an extended period of time, as coconut oil will soften when warm.
You can also refrigerate these brownies for a few weeks, or you can freeze them for up to 2 months or more.
But seriously, who has the willpower to keep brownies that long without eating them all first???
(Above – watch the video of making the brownies)


Ultimate Unbaked Brownies
*For keto, try these Chocolate Fat Bombs
The Ultimate Unbaked Brownies

4.87/5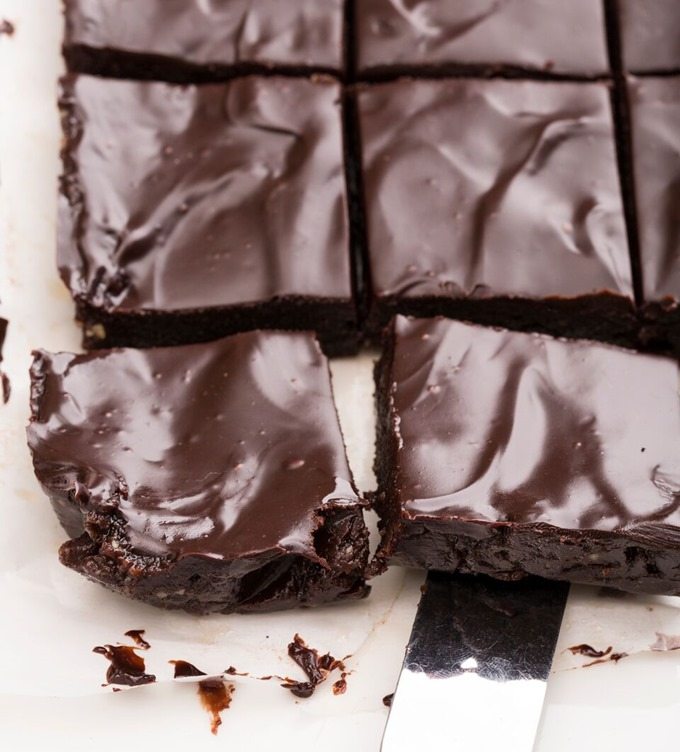 Ingredients
2½ cups loosely packed pitted dates
1 1/2 cups walnuts
6 tbsp cacao or cocoa powder
1 1/2 tsp pure vanilla extract
2 tsp water
1/4 + 1/8 tsp salt
1/4 cup cacao or cocoa powder
¼ cup pure maple syrup (or raw agave)
2 tbsp vegetable or melted coconut oil
1/2 tsp pure vanilla extract
Instructions
Combine the dates, walnuts, 6 tbsp cocoa, 1 1/2 tsp vanilla, water, and salt in a food processor. (This is the food processor I use.) Process until completely smooth, scraping down as needed – It may seem dry at first, but don't add any extra water.  Lightly grease an 8-inch square baking pan, or line the pan with parchment or wax paper. Transfer dough to pan and press very firmly until dough is evenly distributed in the pan. In a medium mixing bowl, combine remaining cocoa and vanilla extract with the maple syrup and oil. Stir until mixture forms a paste (this is the frosting). Spread evenly over dough in the baking pan. Refrigerate brownies for at least 2 hours, to set. Leftovers can stay covered at room temperature for a day, or up to 2 weeks in the fridge, or 1-2 months in the freezer.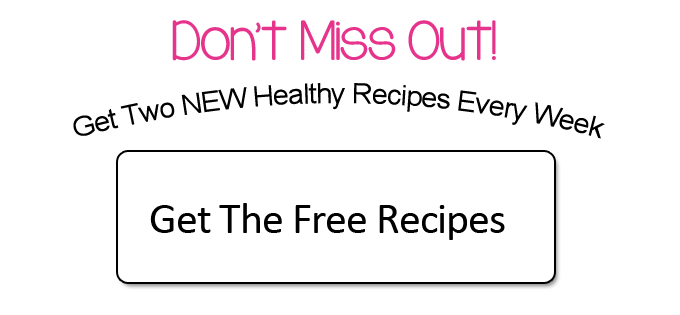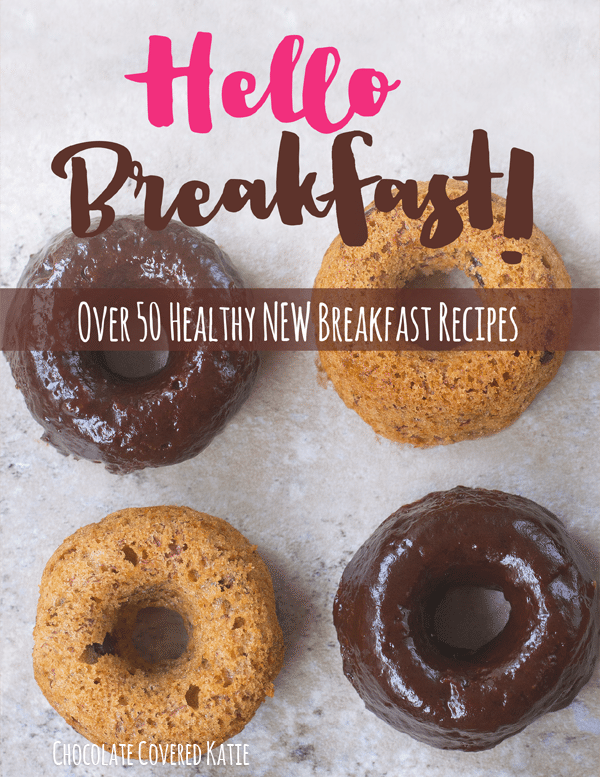 More Healthy Brownie Recipes: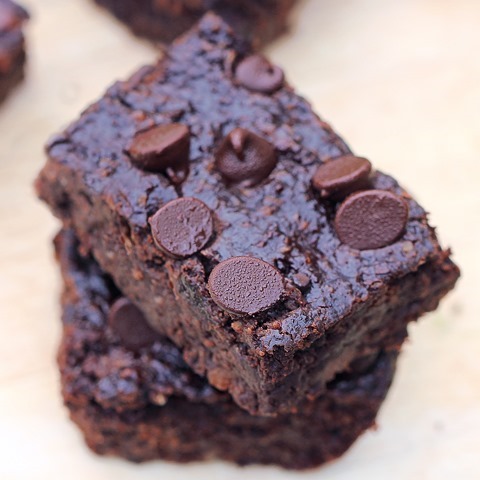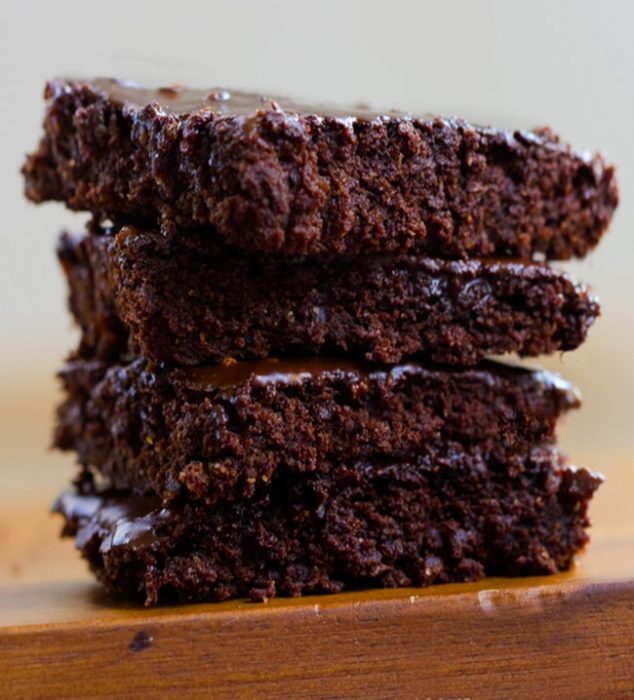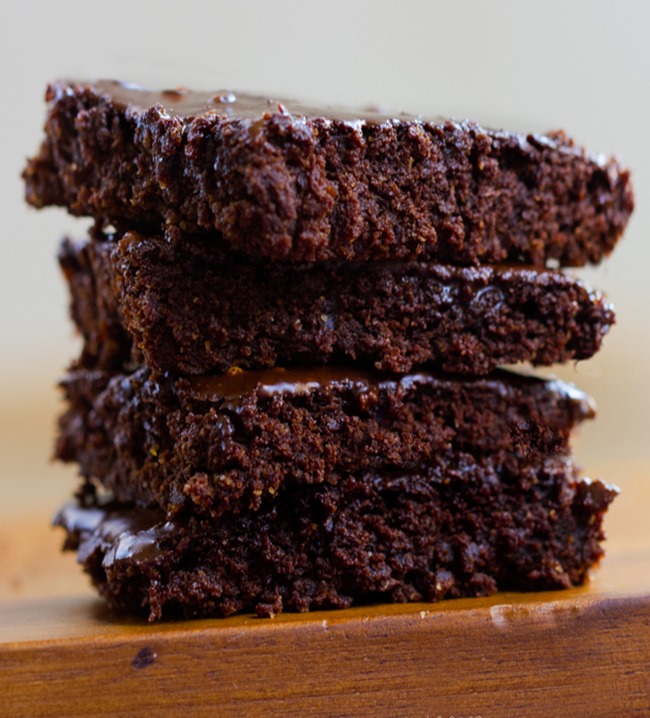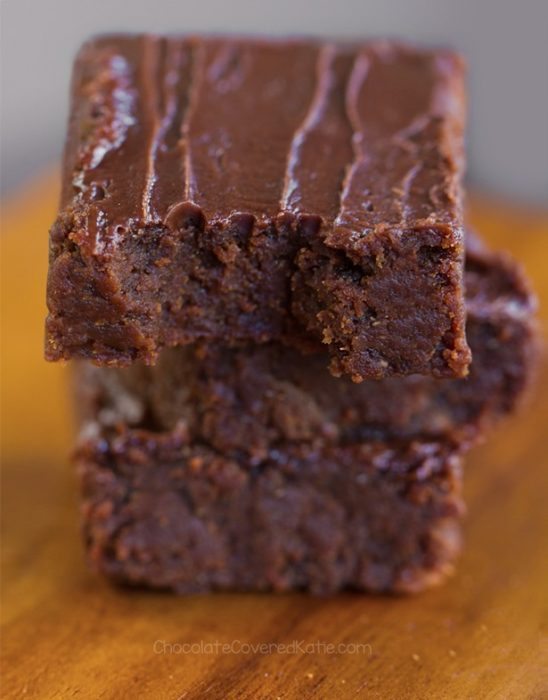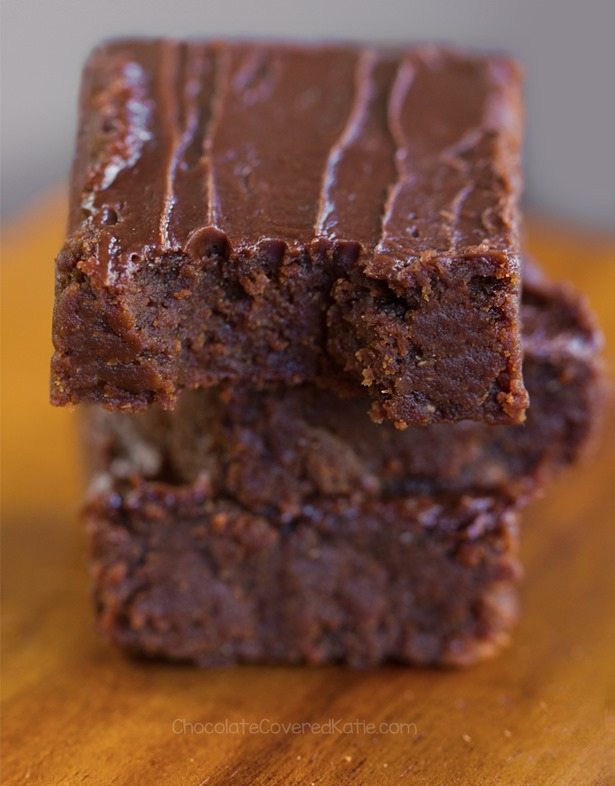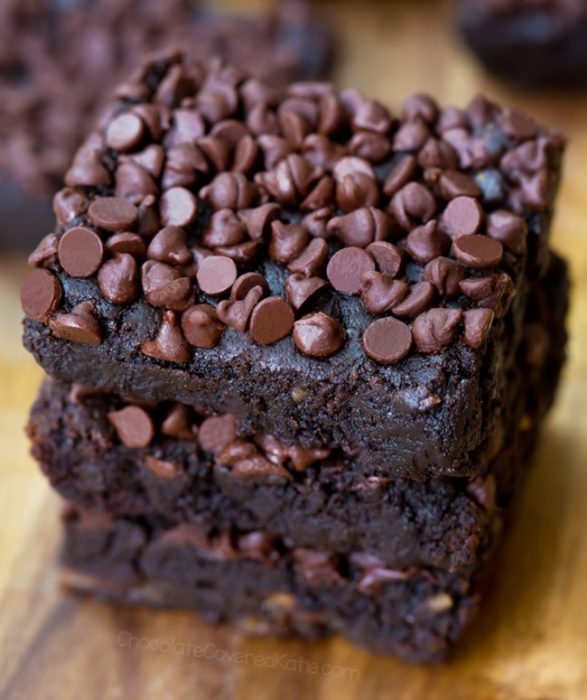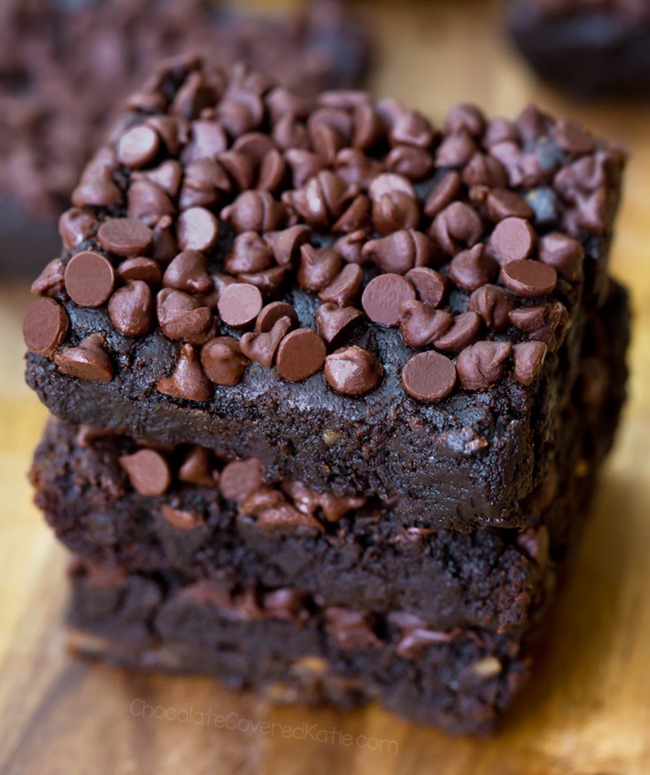 4.87/5 (92)

Find more healthy recipes like this The Ultimate Unbaked Brownies at Chocolate Covered Katie.