This 5 ingredient Vegan Parmesan only takes 2 minutes to make, and it's so crazy tasty, you'll want to sprinkle it on everything! Think "nooch" to the 10th power!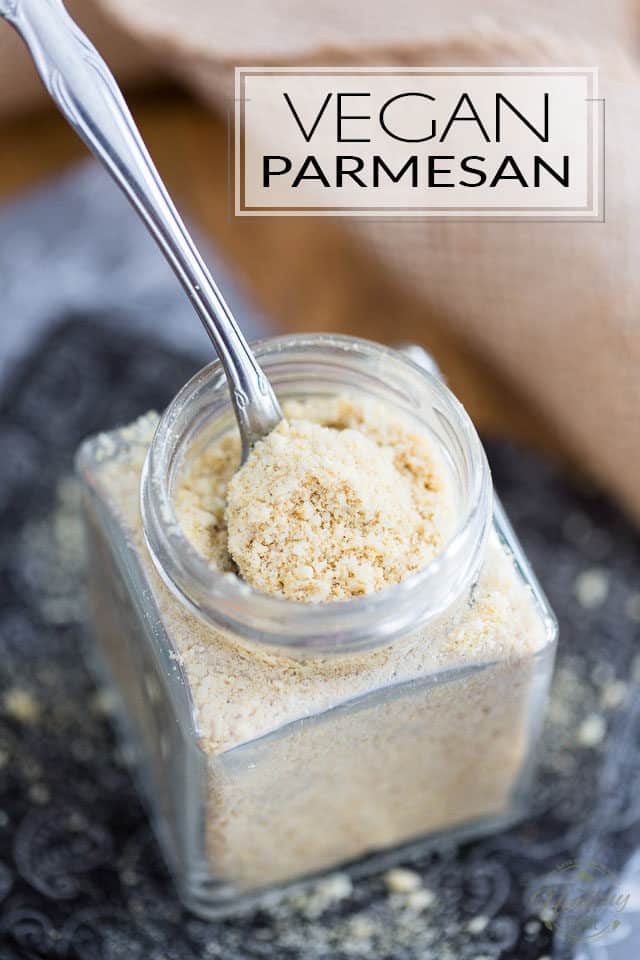 If you're a vegan, then you probably sprinkle nutritional yeast, aka nooch on just about everything you eat. Well, ok. Maybe not your morning cereal, or your chocolate chia pudding, or anything sweet for that matter. But everything else, you probably be like "hey, pass the nooch this way, please!" I know I do! I put that sh*t on everything!
Sometimes, though, I feel like I want a little bit more… a little bit more texture, a little bit more flavor, a little bit more oomph, you know?! Especially when I'm eating things like pasta with tomato sauce, a fresh crispy leafy salad or a piping hot bowl of minestrone soup, for instance.
That's when I reach for Vegan Parmesan!
I know there are already plenty of recipes for it on the internet, but I find most are mainly made of cashew meal with just a little bit of nutritional yeast in it. I wanted my vegan parmesan to still offer most of the same nutritional values that nooch has to offer, especially in the vitamin B12 department. So I made sure to incorporate lots of it in my parmesan mix. Also, I added a tiny amount of dried onion flakes, which give the mixture a pleasant yet subtle onion soup flavor, while adding a very agreeable little crunch to it. Personally, I'm a fan! Perhaps too big of a fan, even; I love this stuff so much that I sometimes eat it by the pinchful…
I really hope that you will like it too!
The post Vegan Parmesan appeared first on The Healthy Foodie.