This Vegan Pot Pie topped with Whole Wheat Biscuits is not only a super fun variation on this great classic comfort dish, but it's also much quicker and easier to make, too!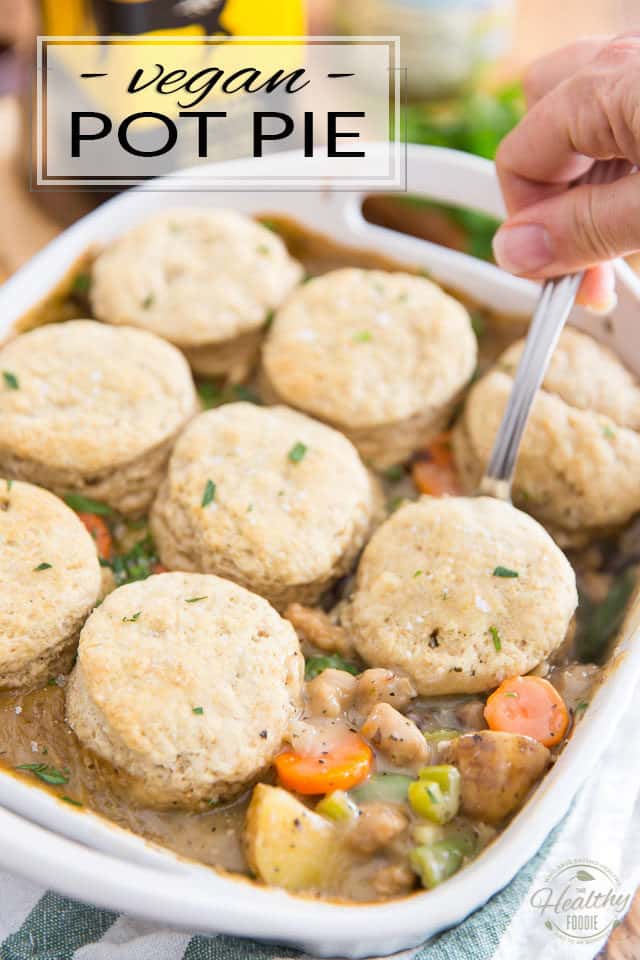 Can you think of a dish that's more comforting than Chicken Pot Pie? Well… there might be a few, but this one certainly ranks very high on the list. Not only that, but it also happens to be a very popular addition to Thanksgiving menus!
If you're anything like me, though, you probably tend to stay as far away as you can from any dish that requires you to make / handle pie crust. I don't know why, but there is something about pie crust… it takes forever to make, usually will leave the entire kitchen covered in flour by the time all is said and done, and will drive you completely insane by tearing and breaking all kinds when you try and roll it down to a neat, thin circle. Argh! I'll gladly pass, thanks!
Well, this super fun vegan version, which is topped with biscuits instead of pie crust is just as tasty as the real deal — if not more if you ask me — and so much easier to make, too! No fancy crust to roll, no flour everywhere (well, ok, maybe a little bit…) and no tears and breaks. Plus, biscuits are so much better to eat than pie crust, and much healthier, too!
For me, it's a no-brainer. Vegan Pot Pie topped with biscuits instead of crust is totally the way to go!
The post Vegan Pot Pie appeared first on The Healthy Foodie.