How to make quick, tasty, and super healthy vegan tacos that even non vegans will love.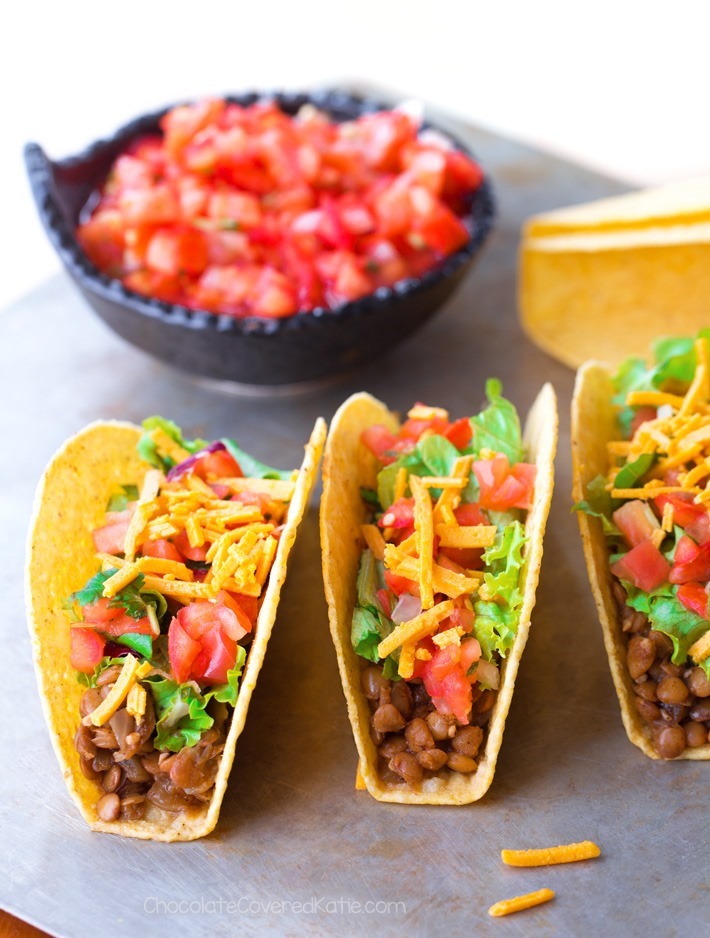 Easy Vegetarian Tacos
Vegan
Soy Free
Gluten Free
High Protein
5 Ingredients
For a healthy plant-based dessert, try this Vegan Brownies Recipe.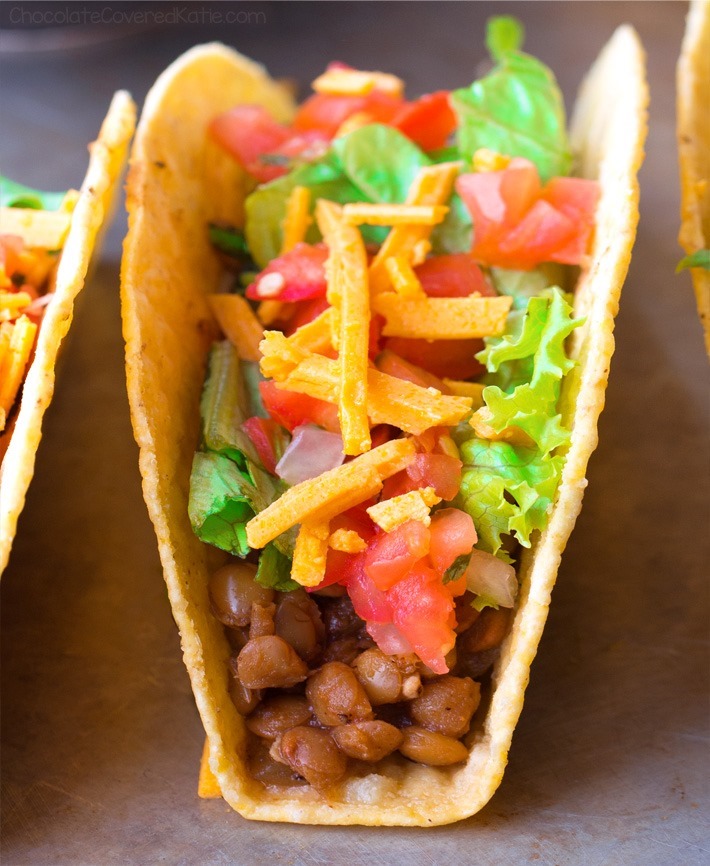 Taco Tuesday?
How about taco every day.
The savory lentil filling in these protein-packed meatless tacos is so good, you'll want to eat it with a spoon.
They're a great option for a quick and simple nutritious weeknight meal, or have fun setting up a taco bar station by putting everything out on the counter in different bowls—taco shells, filling, lettuce, onions, diced tomatoes, avocado, salsa—and letting people build their own tacos.
Trending Right Now: Overnight Oats – 15 Recipes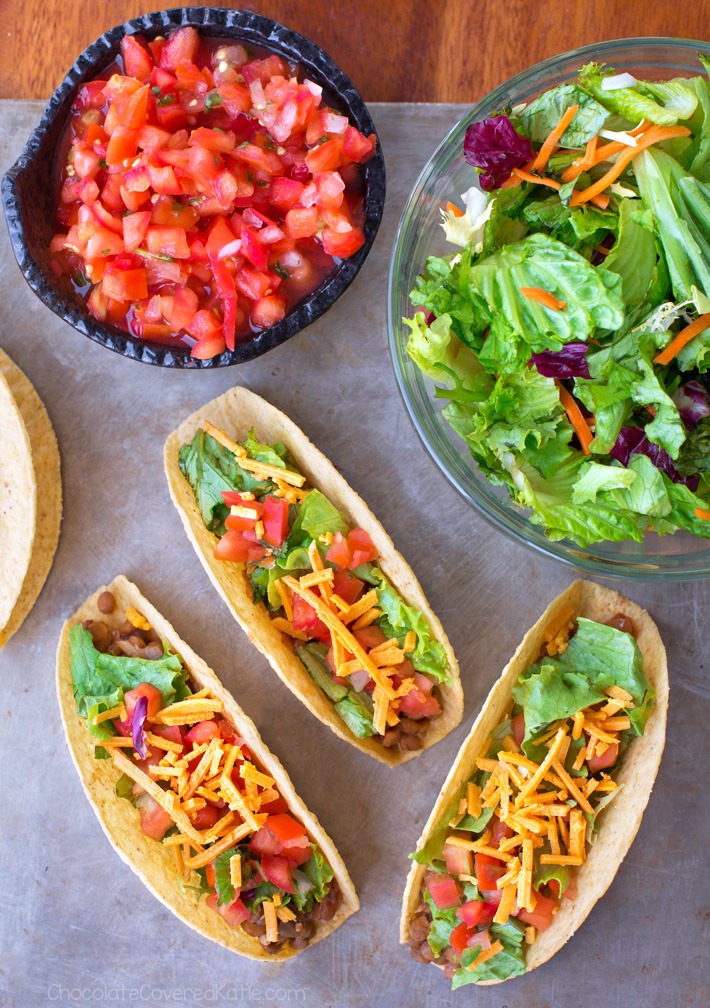 Restaurant Style Taco Recipe
Feel free to customize the recipe by stirring diced roasted sweet potato, cauliflower, tofu, jackfruit, or a handful of spinach into the vegan taco meat before serving.
I haven't tried replacing the lentils with black beans, but it should be fine as long as you adjust the water amount and allow for extra soaking and cooking time for the beans. Be sure to report back if you experiment!
Also Try These Buffalo Cauliflower Wings

Vegan Tacos
Vegan Tacos – Just 5 Ingredients!

5/5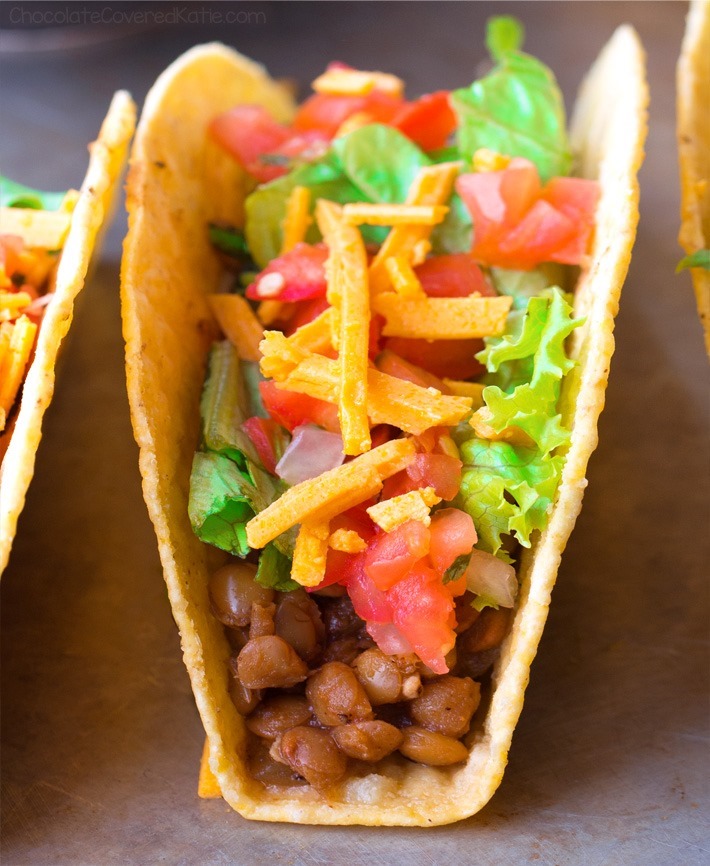 Ingredients
1 cup diced onion
oil or spray, for sautéing
1 tbsp minced garlic
2/3 cup dry lentils
1 1/2 cups water
2 1/2 tbsp taco seasoning (or one batch of the homemade taco seasoning below)
optional 1/2 cup roasted diced sweet potato
taco shells or lettuce cups
optional toppings, such as salsa, avocado, cheese-style shreds, etc.
Instructions
*If you want to make your own taco seasoning, simply combine all of the following: 1 tbsp chili powder, 1 tsp each of ground cumin, salt, and onion powder, 1/2 tsp each of garlic powder, paprika, black pepper, and oregano, and optional 1/2 tsp cocoa powder.
In a medium pot, sauté the onion (in oil or spray) over medium heat until browned. Add garlic, and cook one additional minute. Add all remaining ingredients (excluding optional toppings, sweet potato, and shells), and bring to a boil. Once boiling, cover and lower to a simmer for 40 minutes or until lentils are soft and water is absorbed. To assemble: Stir in sweet potato if using. Place about 1/4 cup lentil mixture in each shell or lettuce cup. Top as desired.
More Vegan Meal Ideas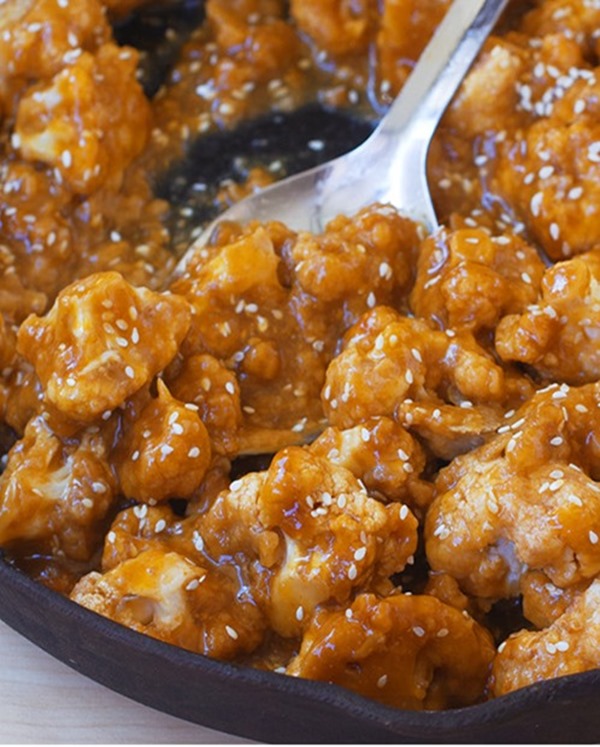 (Reader Favorite Recipe)

5/5 (2)

Find more healthy recipes like this Vegan Tacos – Just 5 Ingredients! at Chocolate Covered Katie.